5/26-8/16
If I could sum up our summer in Connecticut with one word, it would be family. Not only did we get to spend an extended amount of time with Carol (Tim's mom) while supporting her through a difficult health-related journey, but we also had the pleasure of spending more time than usual with the rest of Tim's family. In particular, our nieces and nephew who came to visit their grandma (and us) on a regular basis throughout the summer. We don't normally see them more than once or maybe twice a year, so all this extra time with them was a special treat.
We also got to see Al & Michele (Tim's dad a stepmom) a few times – visiting them on their boat for dinner one night, and joining them for a fun anniversary weekend in Newport, RI. The four of us share an anniversary and they graciously invited us along for an overnight celebration.
This unplanned summer in the east got me thinking a lot about family and how our unconventional chosen lifestyle has impacted our family relationships. On one hand, the flexibility that we have allowed us to fairly easily rearrange our lives so we could live with Carol for a good part of the last six months. There's no way we could have made that happen back when we both had jobs in physical locations and the responsibilities of homeownership. On the other hand, our travels tend to lean toward the western side of the country, while all our family lives in the northeast, which often means long periods of time between visits.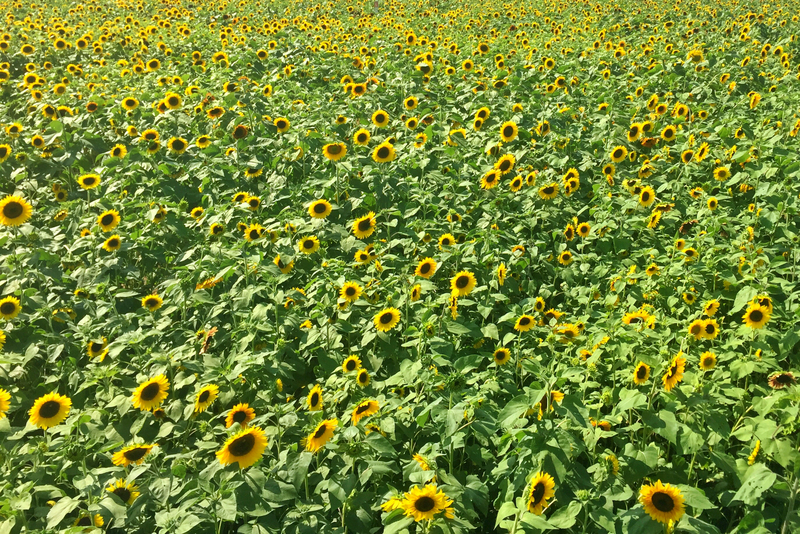 It's a problem that has no easy solution and one that I am sure other full-time RVers are familiar with. So far the only solutions I've come up with are a futuristic matter transporter that would allow us to instantly travel from one spot to another…or we convince all of our family to move west so we don't have to travel back east to see them. Not sure which one is least likely to happen :)
Between spending time with family, and lots of trips back and forth to the hospital for Carol's seemingly never-ending appointments, in addition to visiting her daily during a couple of extended hospital stays, we made a strong effort to get outside and explore as often as we could. When we were here for six weeks during the winter it was cold and nasty out, so we joined a gym for exercise. This time around, the weather was much better for outside activities, so we decided to skip the gym and made ourselves a promise to hike, bike, and kayak on a regular basis. And guess what? We did great!
It was a hot summer. Probably not hotter than normal, but definitely hotter than we are used to. To beat the heat, we took the kayaks out a lot. In fact, during the eight weeks we were in CT, we went kayaking nine times! We tried out several different spots – the Connecticut River, the Branford River, and various areas along the Long Island Sound. I think one of our favorite places ended up being the waters around the Thimble Islands. This tiny grouping of islands lie just offshore and make a great spot to get in a short or long paddle on a hot day.
True to the nature of the Connecticut shoreline, most of the islands are privately owned, but during our first paddle in the area, we stumbled upon Outer Island, which is an ecological preserve and refuge for migratory birds. It is also part of the Stewart B. McKinney National Wildlife Refuge and is open to visitors on summer weekends. In addition to the research facilities, there is a small beach and dock, a visitor center and covered porch for relaxing, and some really great views. We stopped there twice to stretch our legs, hang out, and eat lunch.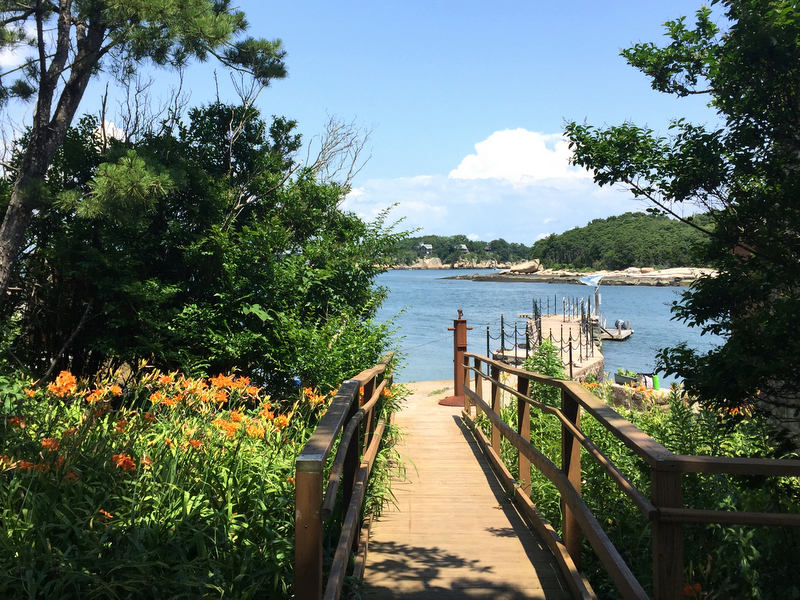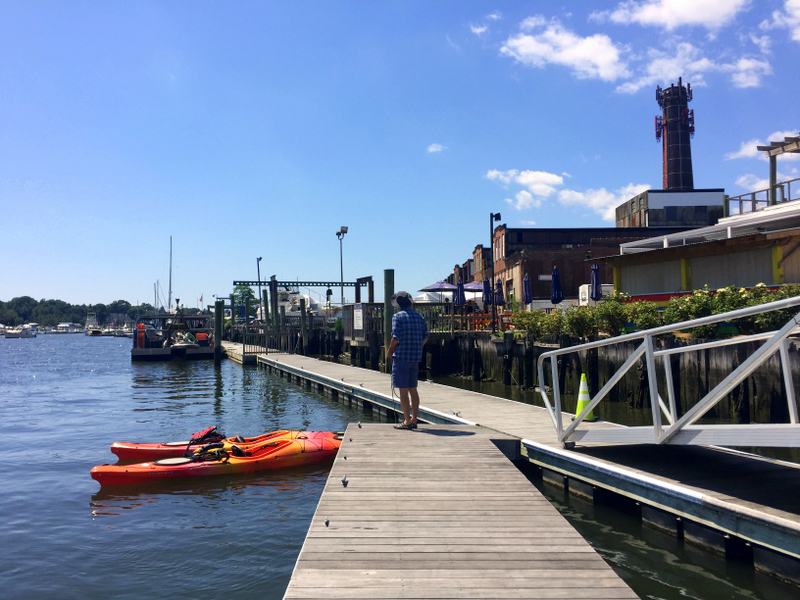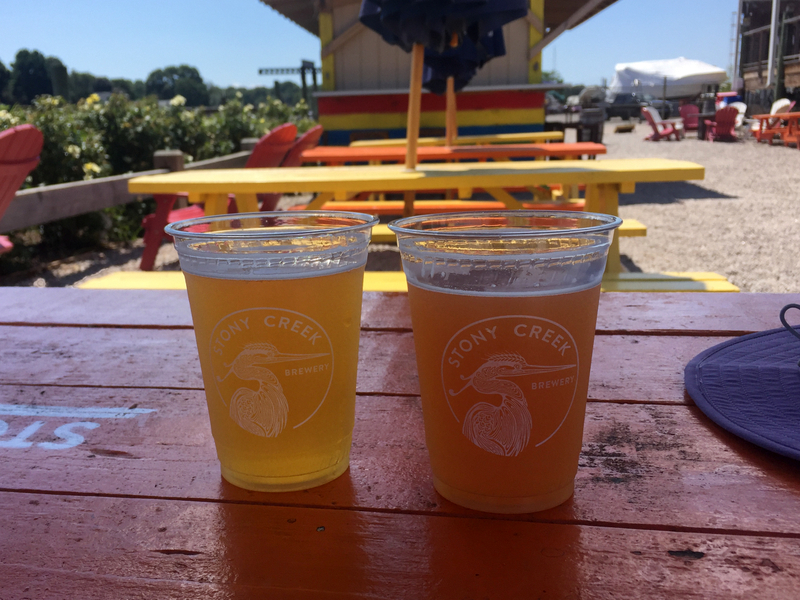 Back on land, we found a few nearby state and town parks for hiking. Connecticut is a fairly small state with a densely settled population which means there is not a lot of space left for large swaths of public land. However, even the small parks have decent trail networks that allowed us to hike 5-7 mile loops up and down through the forest.
Our favorite hiking spot quickly became Sleeping Giant State Park. Not only was it close by, but it boasts over 30 miles of trails that travel up and down a tree-covered ridge, which from a distance resembles a sleeping giant (they call it a mountain, but let's be honest and not pretend that a 740-foot bump in the earth is a mountain).

In the past, we have hiked at this park during family visits. But we never before strayed from the main gravel path that travels up to the tower, and I didn't even know that there were so many alternate trails. I think I can now say that we've hiked nearly every combination of trails possible at Sleeping Giant.
On the biking front, we greatly enjoyed riding portions of the nearby Farmington Canal Trail. Extending 58 miles from New Haven to the Massachusetts border, and then beyond, this paved trail runs along abandoned rail corridors and canal towpaths. It's a great multi-use path featuring both urban and rural scenery. We rode it in both directions, twice north to Kinsmen Brewing, and once south into New Haven where we jumped off the path and biked along some side streets to the East Rock Brewing Company. (Hmm…beer equals biking motivation)?
By mid-August Carol was far enough along in her recovery to be on her own and we all agreed that it was time for us to move on. Tim was about to start a new job (so far so good!) and we were excited to spend the last few weeks of summer in Vermont where the Airstream was waiting for us. Our current plan is to stay in VT until the end of October, so you can expect a ton of fall foliage photos over the next few months. Until then, here's one more CT beer pic from Front Proch Brewing where the sour beers are incredible!