September 13-25
We love Colorado, but after spending nearly 6 months (what!) in one state, mostly parked in the same spot, the itch to get those wheels moving again was strong. But there was no way I was leaving before we found some fall.
Tim likes to argue that the fall foliage anywhere outside of New England is inferior. And while I agree that all those orange and red maple leaves are hard to beat, my counter-argument is always the mountains. Sure, the soft rolling hills of New England covered in a rainbow of foliage is nice and all, but how does that really compare to a 14,000-foot jagged peak decorated with streaks of yellow-hued Aspen trees flowing down like a gold-filled river? Let's be honest about the situation and just admit that fall in Colorado is pretty amazing.
With the desire to travel somewhere – anywhere – nipping at our heels and our patience with the cold temps dwindling, we decided to go straight to the most scenic place in the state with hopes of finding ourselves some fall.
Our first time visiting Crested Butte was way back in 2013. We had been full-timing for just over a year and were deep in the middle of a love affair with finding boondocking spots. At the time, the only websites sharing camping info were focused solely on established campgrounds. Which meant finding boondocking spots was much more involved, uncertain, and exciting than it is today. I can't remember exactly where we found the reference to camping on Washington Gulch Road, but it sounded promising with a flower-filled meadow, mountain views, and a location close enough to town to get a cell signal. Turns out it was all of that and more. We spent a week gazing at Mount Crested Butte and only shared the area with one or two other campers.
The next year we went back again. This time, when we showed up the meadow area already had 5 or 6 camping groups so we found a spot on the other side of the road where we had both mountain views and a bit of privacy from the road. We stayed for two weeks at the peak of the wildflower season. It was magical.
Fast forward seven years from our first visit and oh man have things changed. The meadow area where we first stayed now has a road at the top where RVs park in a line, the lower meadow (which was inaccessible to RVs in both 2013 & 2014) has another road that RVs park along, and the area across the street where we stayed in 2014 has expanded tenfold.
Are we disappointed that this once tranquil spot is now overflowing with campers of every sort? Not really. A lot has happened in the past seven years that has contributed to the rise in RV travel, camping, and outdoor activities in general. For the most part, I think this is a good thing. Maybe not good for the land that people are too often abusing, but good for all the people who are out enjoying nature. I am always going to be an advocate for spending time in the great outdoors. If that means I have to share my free boondocking spot with a few more people than I would like, so be it. I feel strongly that our public lands should remain accessible to all who want to enjoy them.
Of course, the flip side to all this is that our love affair with the great outdoors is simultaneously ruining the great outdoors. From piles of trash to the making of new sites by running over bushes and cutting down trees, to the incessant and unnecessary building of fire rings, we seem to be loving some of these areas to death. I would like to think that education is the answer. Umm…no. Sadly, that approach has been taken for years and it doesn't seem to be working.
This is why when learned that the public lands around Crested Butte were getting an update of sorts in response to the overuse, we felt more relief than disappointment at the changes. The most significant change is that these areas (including most of the popular national forest areas in Crested Butte) are shifting from dispersed camping to designated camping. What this means is that you will only be able to camp in sites designated with post markers. This will eliminate the destructive habit of making new sites or expanding existing sites into areas where vehicles really should not be. Each marked site will have a permanent fire ring installed and the building of new fire rings will be banned. From everything I could learn about the changes, these areas will remain free for camping.
We only know about all this because during our stay the pit toilets were installed and then a few days later the site posts were installed. We left a day later so never saw if they put numbers on the posts or any signs up about the new regulations, but I suspect that will or has already happened. How or, even if, these new will be enforced I can't say.
In the meantime, we found fall! Eventually. When we first arrived the Aspens were still sporting their bright green summer outfits and I was worried that we might have to endure those cold nights for another few weeks before seeing some fall color. It's funny how spending the summer in a place where it rarely gets out of the 60s makes you long for heat.
But as the days ticked by, the green faded to yellow, and hints of orange started to appear. Soon we were delighted to find ourselves living in a fiesta of fall – the kind that comes with mountains.
Our first two days in Crested Butte coincided with the last two days of Tim's vacation. You know what that means right? Hiking! First, we ventured to the top of Mt. Crested Butte. This is the mountain peak that dominates the view from nearly anywhere in town. In the summer months, I suspect the top of this mountain is crawling with people since a short ride on the Silver Queen chair lift will take you within two miles of the summit.
Those two miles are no joke with steep grades and precarious rocks to navigate, but I doubt that stops many people from attempting it. With no chair lift, the only way to the top is to hike the whole way up. It was no surprise then that we only saw a handful of people during the entire 12-mile hike. We followed the Westside Trail on the way up. It took us through Aspen groves and offered views that got better and better the higher we climbed.
We shortened things a bit on the way down by scampering down some of the ski trails and the now-closed mountain bike trails. In the end, we hiked seven miles to get to the top and five to get to the bottom. I won't lie. I was happy about the lack of crowds, but if that chairlift had been running we would have taken it down! The older I get, the more my knees and ankles dread those steep downhills.
Not to be outdone, the next day we drove out to the Rush Creek trailhead and hiked the Teocalli Ridge Loop. This trail is mostly a route for mountain bikes and dirt bikes but it's also a great hiking trail – if you're up for a long 12-mile loop with some unrelenting uphill.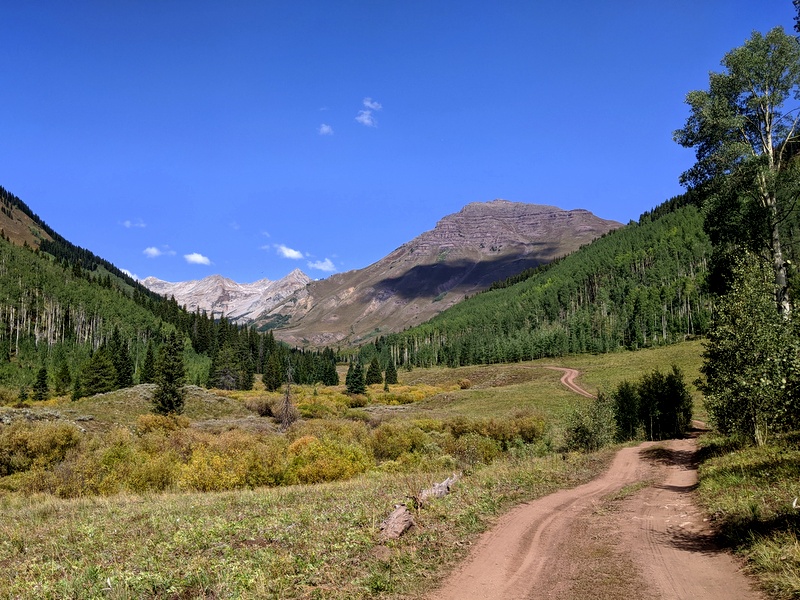 We saw two groups of bikers and a pair of kids on dirt bikes, but no other hikers. This trail was peaceful, scenic, and a really good workout.
After two days of intense hiking, we mostly took the rest of the week off and enjoyed our spot.
As the weekend neared, we made the decision to stay until the following Wednesday which gave us two more non-working days to enjoy the area and fit in more hiking. We have already hiked a lot of trails around Crested Butte. During our last visit in 2014, it was peak wildflower season and we hit up as many trails as possible. While not opposed to repeating trails, we're always on the lookout for new-to-us adventures. Which is how we ended up hiking the Oh Be Joyful Trail. In addition to having possibly the best trail name ever, Oh Be Joyful offers up waterfalls, mountain views, a scenic valley complete with winding stream, and some gorgeous high alpine landscape.
This trail was a little busier than the ones we hiked earlier in the week, but given that it was a Saturday in mid-September, the couple dozen people we saw over the course of 5-6 hours was not bad.
During previous visits, the town of Crested Butte has been a huge draw. We love the small downtown filled with cute shops and restaurants. In normal times, we probably would have gone into town two or three times for dinner, or just to walk around. Not this time. We did make an attempt to visit the Sunday farmers market but the crowds and lack of distancing made it uncomfortable. We ended up picking up a few local apple products and then getting out of there.
Our one other visit to town occurred near the end of our stay when we picked up take out burritos from Tecocalli Tamales for Tim's birthday dinner. They paired quite nicely with the homemade chocolate cake topped with peanut butter frosting & peanut butter cups that I made!
After 10 days of soaking up the views, we made an after-work move down to Gunnison to finish off the week at the Tall Texan RV Park. I don't have much to say about the park. It appeared to be a pretty typical RV park with small sites covered by a nice canopy of Cottonwood trees.
We were really only there to do the three weeks' worth of laundry and stock up on groceries before we heading west into Utah. After almost exactly six months, we finally said goodbye to Colorado.