September 27 – October 10

We left Colorado at the end of September in search of warmer weather and fewer crowds. Southeast Utah seemed like it would be a great place to find both. Right now, more than ever, we're making things up as we go. With no long-term plans other than getting through this fall and winter with our health and sanity in tack, we've decided to take it slow and not make any concrete plans. Fortunately, our ability to boondock affords us a lot of flexibility.
Way back in 2013 we spent some time in the southeast corner of Utah exploring the ruins and making a quick overnight stop at Goosenecks State Park followed by a drive through the Valley of the Gods. When we started talking about leaving Colorado, I mentioned the possibility of boondocking on the Valley of the Gods Road. From all the accounts I found online, it sounded like we might (hopefully) get a strong enough cell signal for work purposes. Sadly, this was not the case. After a day and a half of driving, we arrived to find some really great spots with really great views and virtually NO cell signal despite trying all combination of boosters and antennas. I suppose if you only needed to check emails or send an occasion text, the 3G Verizon signal would have sufficed, but for full workdays and video meetings, it was a no go. Huge bummer!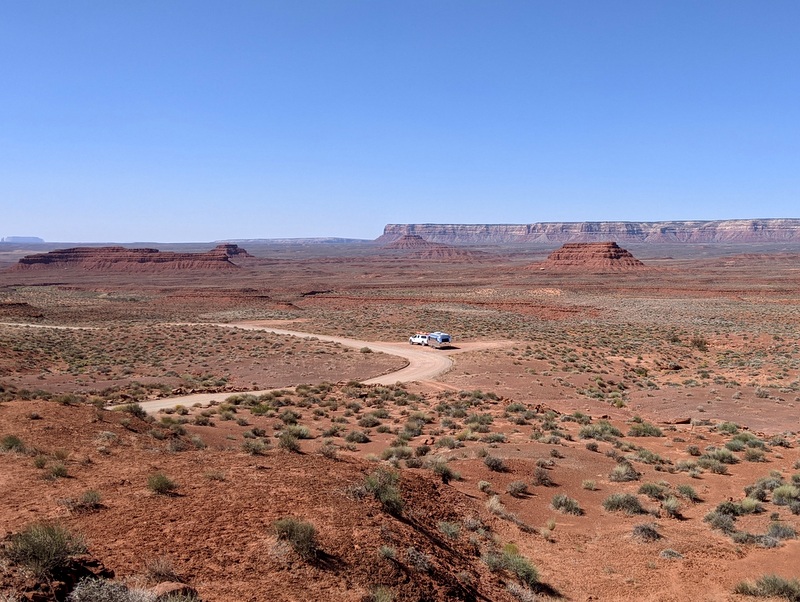 We wasted a few hours trying to figure out our next move and chastising ourselves for not having a plan B. After finding, and passing over, an okay boondocking spot right off the main road with good cell service, very briefly considering the RV parks in the town of Bluff, and ultimately deciding the cell signal was not good enough at the small BLM campground near town, we eventually make the 40-minute drive north to the Cedar Mesa area.
This is the same area where we spent a few nights during our visit seven years ago. It appears that the cell service has improved somewhat since then, which opened up more potential boondocks. We didn't want to risk it again, so instead of going for one of the known spots with a reported okay signal, we found our own spot using Google satellite view. It was close enough to the town of Blanding to have a great signal while remaining inside the BLM boundary. There were no sweeping views or towering rock formations. But there was a generously sized pull-off that we claimed and happily called home for two weeks.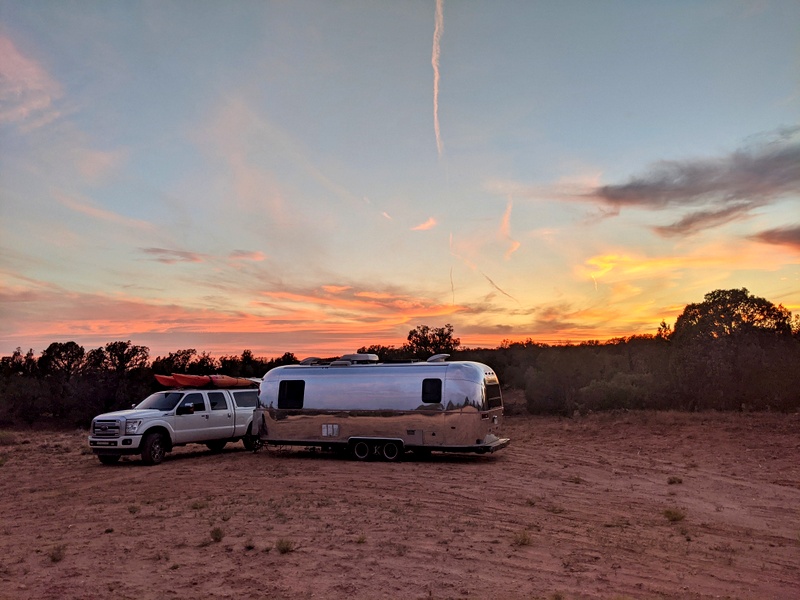 Even though we were only half a mile from the main road, not a single car drove past us for the first five days! The solitude was blissful and combined with the best weather we have experienced since last March (how weird is it that we had better summer weather in March than all of June, July & August? No wonder I never know what season it is), it was exactly what we had been seeking. By the end of our stay, we both agreed that two weeks at the Valley of the Gods would not have been nearly as peaceful.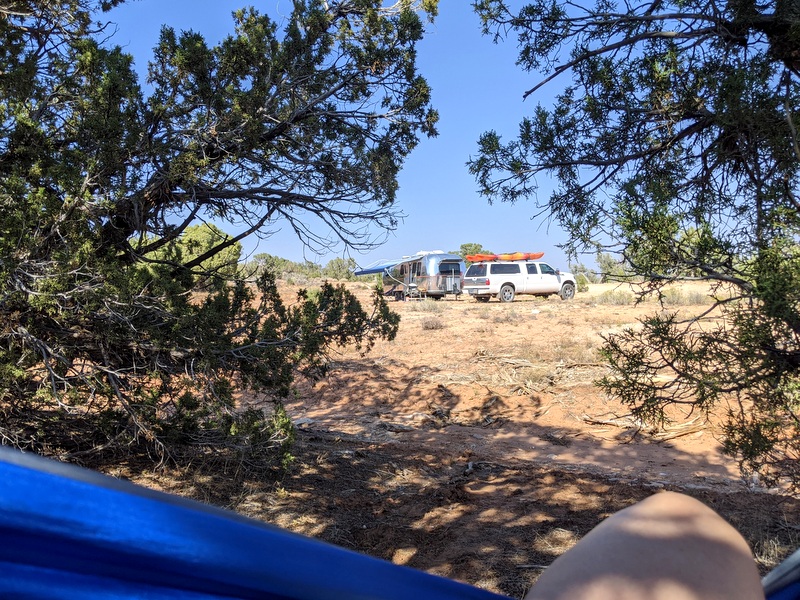 This area of Utah, which includes both Bear's Ear's National Monument and Natural Bridges Natural Monument, is best known for the wealth of ancient Ancestral Puebloan ruins tucked into the red rock cliffs that dominate the landscape. Some of the ruins are well documented and easy to find with road signs and websites detailing where and how to see them. Others are not so obvious and require a bit more effort, and sometimes luck, to discover. During our previous visit, we hiked to a number of the more well-known ruins. This time, we sought out some that were harder to find either because they were not well documented, or because they required long treks through the desert.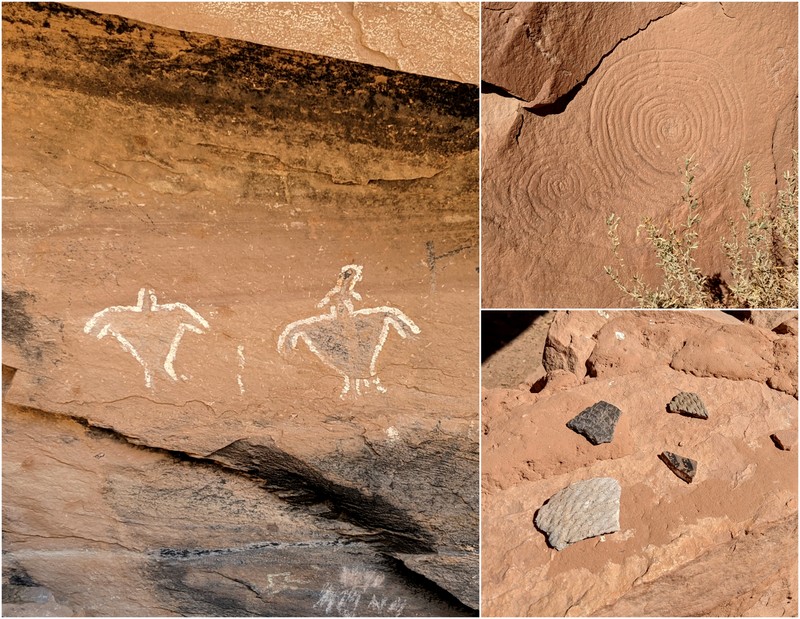 The most memorable hike to find cliff dwellings started at the Kane Gulch ranger station and traveled through a wide canyon before merging with Grand Gulch. We found several areas with extensive cliff dwellings on this hike. Some refer to the Grand Gulch as the "treasure chest" of this area when it comes to ancient dwellings and artifacts.
While there are plenty of online details about the location of the ruins in Kane and Grand Gulch, the fact that you have to hike at least 5 miles on a meandering trail through the sandy desert to reach the first one, means that you most likely will not have to share the view with anyone else.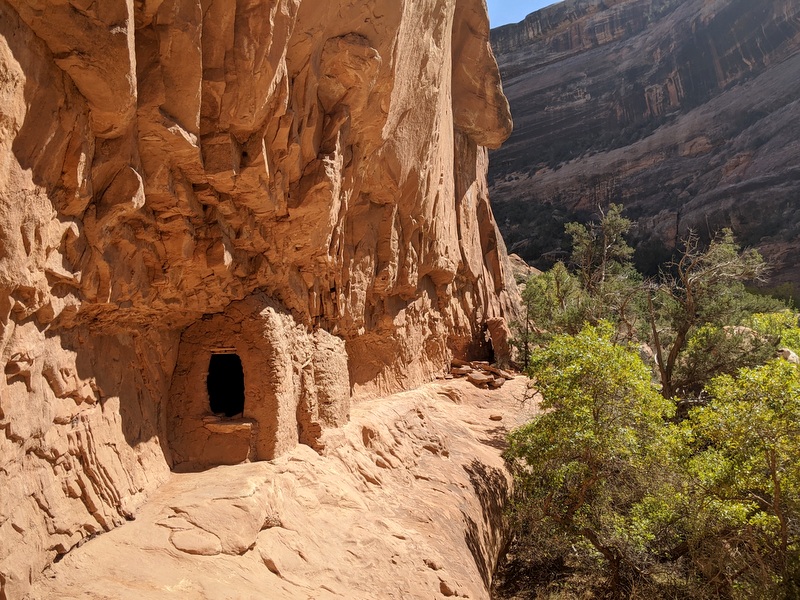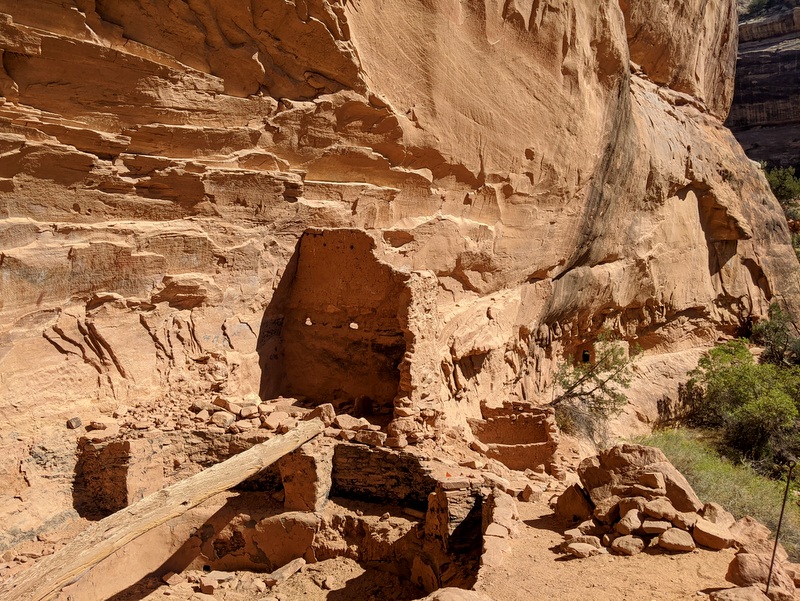 It feels like we only just touched the surface of what there is to see in the Kane and Grand Gulch area. Above and beyond the ancient dwellings, the landscape itself is simply stunning. This is definitely an area that would be worthy of a several-night backpack trip to get farther into the gulch.
This was also the trail that reminded us we were back in the desert. We've been joking all summer about how easy hiking would be once we left the high elevations behind. I imagined that we would be skipping up the hills while drinking in that sweet, sweet oxygen-rich air. Well, despite all that oxygen, the sandy surface, the constant need for route finding, and rock scrambling put us in our place. We lost and found the trail at least three times in the first mile of this hike and on the way back had to take a prolonged rest in the shade. We might have gotten used to the higher elevations, but we were not used to hiking in hot temps with the sun beating down.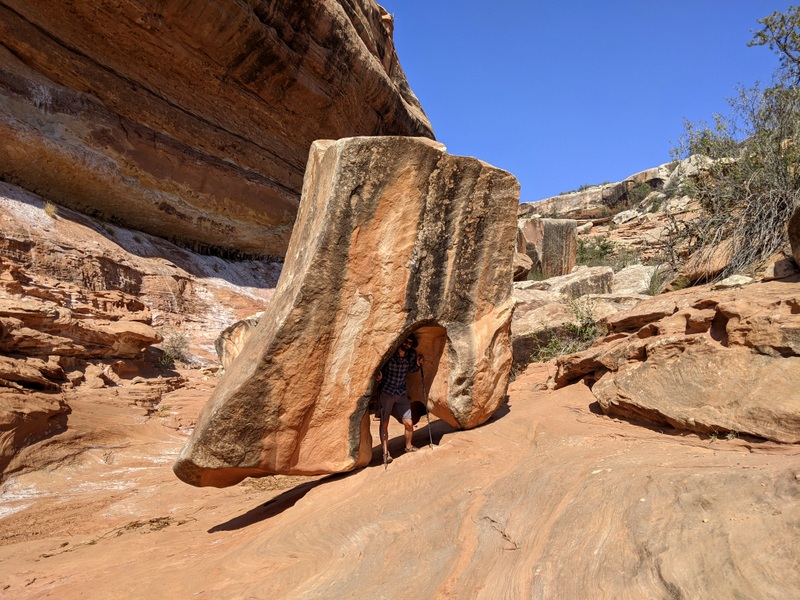 Not to be outdone by all the ruins, we made a return trip to Natural Bridges National Monument. With the full moon looming and the evening temperatures hovering in the perfect-for-hiking range, we set off one afternoon for a repeat hike on the loop trail which travels past all three natural bridges. The hour-long drive combined with work commitments meant that we didn't get on the trail until around 4:30. That left us two and a half hours until dark. There was no way could hike the full 9-mile loop before losing all the light, but we figured we would at least be out of the canyon and making our way across the mesa by the light of the moon when night truly set in. We figured wrong.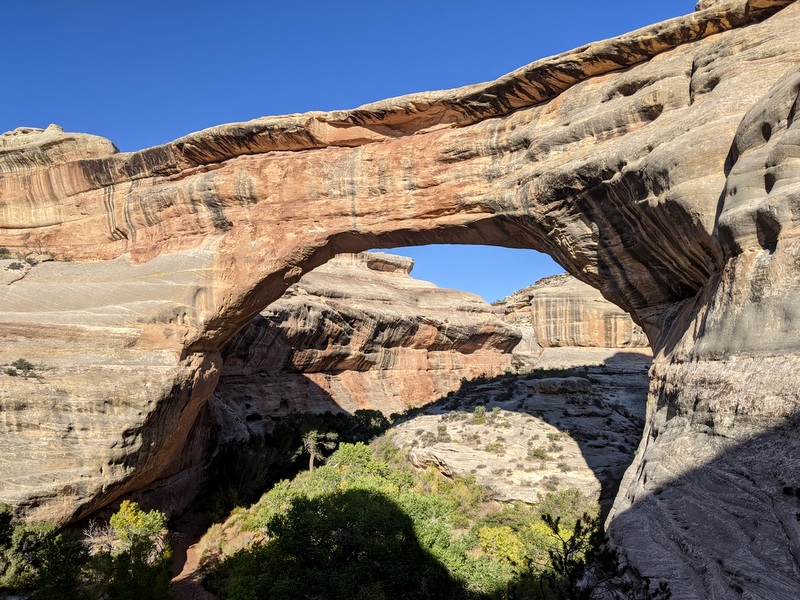 The soft sand trail at the bottom of the canyon made for some slower than normal hiking. Plus we kept stopping to look around. I mean, can you blame us?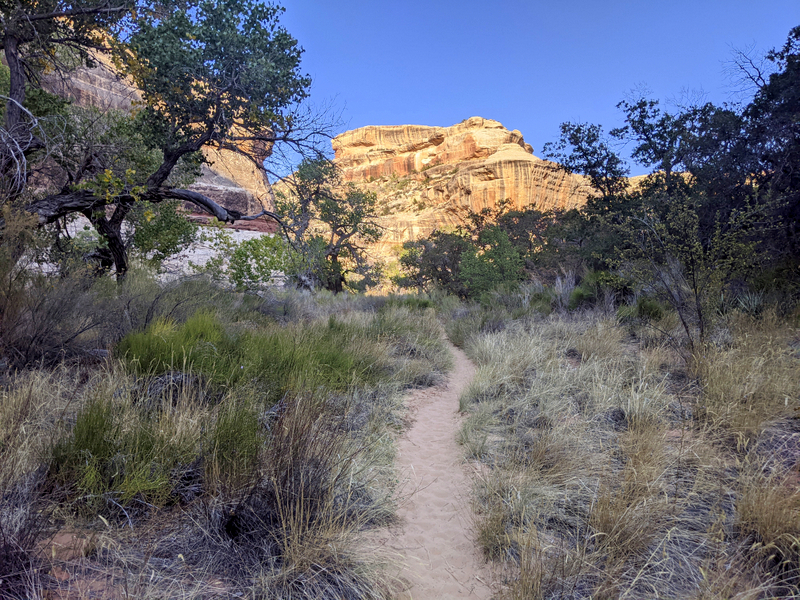 We also probably spent a little longer than we should have at the Kachina Bridge eating our dinner and enjoying the serenity of the canyon. We started evening hiking out of necessity a few years ago, (that pesky work thing again) but quickly realized that it's a great way to avoid crowds. The transition to shorter days makes hiking after work more of a challenge, but under the right circumstances, we're not opposed to hiking after dark – especially when we have a full moon lighting the way. And flashlights. We always carry lots of flashlights and headlamps. (I added that last part for all the moms out there reading this)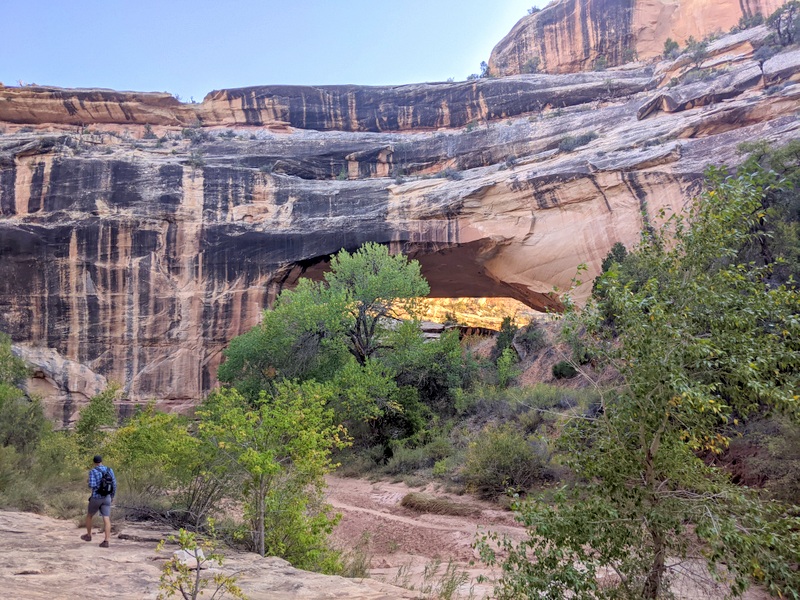 So we didn't make it to the top of the mesa by dark. In fact, we were still very much in the canyon when it got dark and as a result, we missed the turn to climb up and out. Instead, we kept following a trail of sorts and ended up next to a pool of water at least 100′ below the Owachomo Bridge. There was nothing to do but turn around and look for the correct trail. I don't think the detour was more than a 1/2 mile, but I was still relieved when we found the track leading up to the bridge and beyond.
By the time we got up there the moon had risen and was bathing the arch in a golden glow. My phone camera didn't even come close to capturing the sight, but we made sure to take time to relish the view. Even now when I close my eyes I can see that massive stone arch with the moon peeking out behind it. Sometimes those memories are better than any photo.
For most of our two-week stay, we went back and forth on what we should do next. Do we head south into Arizona or move deeper into Utah? With more to consider these days than the normal fun stuff like finding great boondocking and hiking, we ultimately decided to say goodbye to Utah until a time when it feels like a safer place for us to spend time.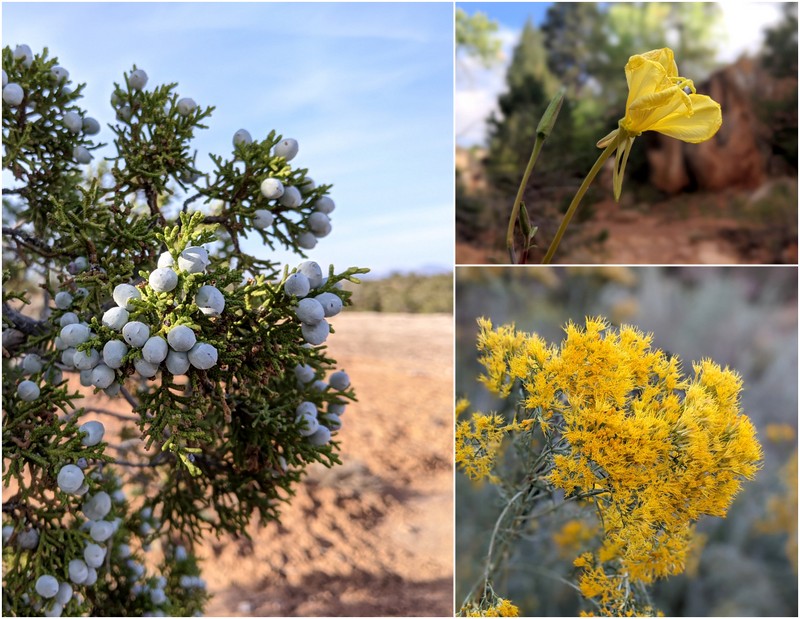 But first, we had one last Utah adventure to undertake. One which would give us some much needed time out on the water.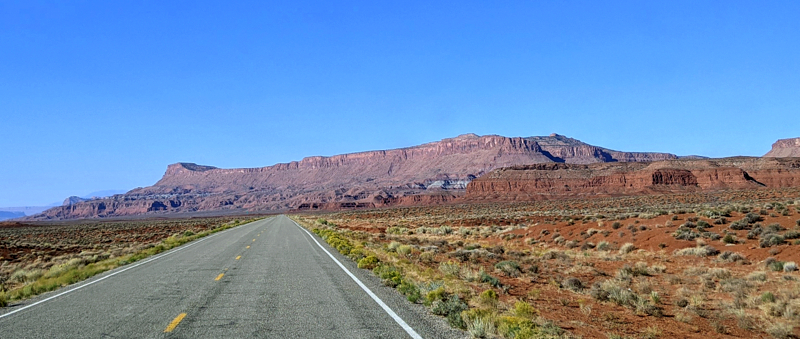 We drove through the desert for nearly an hour and a half before a sliver of dark blue appeared on the horizon. We had made it to Lake Powell. Specifically, we made it to Halls Crossing. This tiny town on the edge of the lake appears to exist purely for those who want to enjoy the water. Halls Crossing is part of the Glen Canyon National Recreation area and offers up a full hook-up RV park, a primitive campground with lake views, and lots and lots of parking spaces for boat trailers. Hall Crossing also has a ferry that crosses over to the Bullfrog Marina not too far from Capitol Reef NP.
The primitive campground was quite nice looking with shade trees and few sites on the edge with amazing views of the lake. We probably could have fit our trailer in about half the sites. As expected out here miles and miles from civilization, the cell service was pretty much nonexistent which justified the decision to drive all that way without our home. It was to be a one-day trip only. Also, without a real boat (the kind that doesn't require arm power to move) there's not much to do here that you can't do in a single day.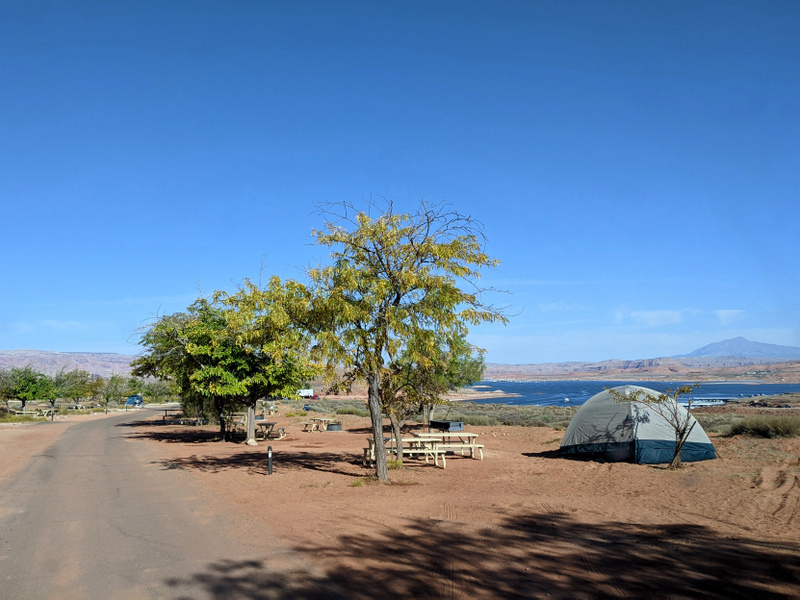 Speaking of boats, there were a LOT of them. And they all seemed to be going top speed while emitting as much noise as possible. I don't always find it enjoyable to paddle around a lake filled with fast boats and jet skies but we stayed near the edge and managed to mostly ignore the engine noise by immersing ourselves in the scenery.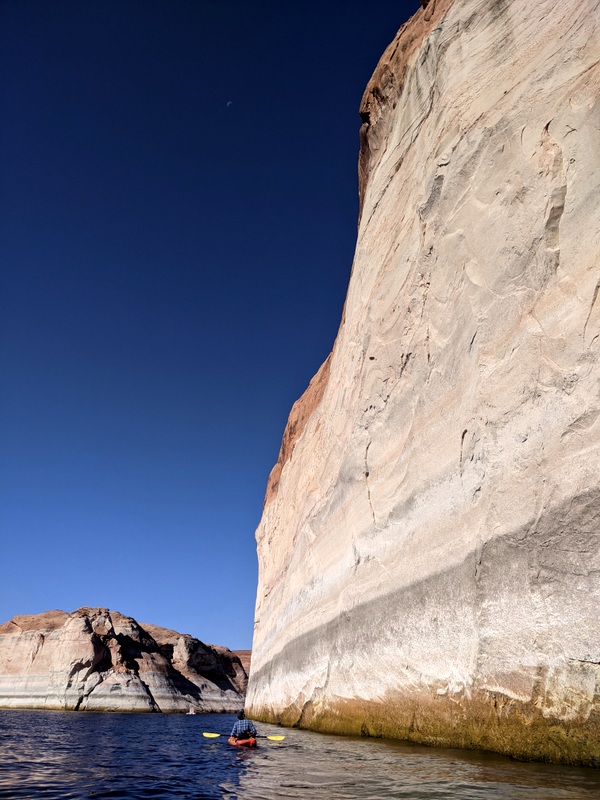 Our destination was Lost Eden Canyon. Only a mile or less from the boat ramp, this long, twisting canyon is filled with narrow slots, a giant cave, and several passages to discover. It was so much fun to paddle through.