November 16-22
Before leaving Tennesse for Alabama, we changed our minds about when and where we would go approximately 500 times. First, we were going to stay outside of Birmingham through the weekend and then continue west. But the cold weather had us itching to move on, so we contemplated skipping Birmingham and instead driving all weekend until we got into Louisiana. For a day or two, this was the new plan – until we changed our minds again and decided to go back to the original plan.
But then as we hitched up and drove away from Chester Frost Park on Saturday morning in the freezing cold (it was 34 degrees at 9 am) we looked at each other and almost in unison said, "maybe we should drive all weekend." Except at that point, we had already made the decision not to fill the water tank which meant we would either need to stay at a campground that night or find some water. Not really a big deal, but we took it as a sign to stick with the plan. The final decision was to go to Oak Mountain State Park just south of Birmingham and ask about open sites. If they had some we would stay, and if not, we would ask about getting some water there and then move on. Geez…you would think we'd never done this before.
We used to be really good at slow travel. For the first three years of full-timing, we rarely drove more than two hours between destinations, and for many years we always stayed in one place for at least a full week. At some point over the past two years, that has changed. In some cases, it was out of necessity. Like last spring when we only had a month to get from the southwest to the northeast so extra driving and short stays were a must. But in other instances, we drove long distances just to get to somewhere "good". I am putting "good" in quotes because it seems that somewhere along the way our definition of the word has changed.
I used to say that everywhere was somewhere good. The thrill of discovering a new place brought so much joy that even a tiny town in the middle of nowhere held a measure of excitement. I suppose it's to be expected that as we've established our favorites places and areas over the years, we would start skipping over the less favorable places. Which is fine, but wanting to be in those "good" places all the time means that we often fall into the trap of wishing and wanting to be somewhere we are not. Which is not how we want to live.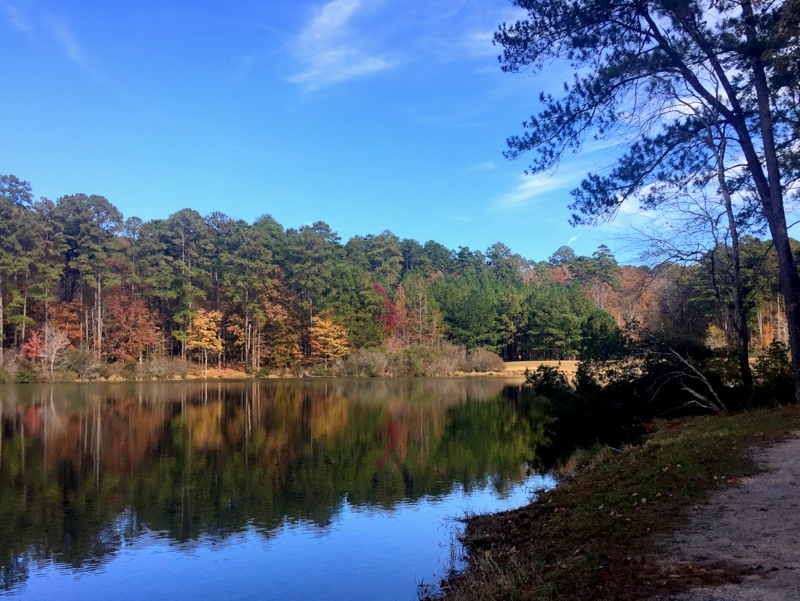 All of this was a factor in our decision to skip over the long weekend drive in favor of exploring somewhere new. Yes, we are itching to get to the desert and we can't wait to catch up with some of our RV friends, but as we are already planning to drive all of the long Thanksgiving weekend, it made sense to stick with the slow travel for the next week.
So…we pulled into Oak Mountain State Park early afternoon on Saturday to find a nearly full campground with only a handful of open sites. By this point, we had already come up with plans for the rest of the day so we happily took one of the last partial hook-up sites in the middle of the B loop. Within an hour we had unhooked, eaten lunch, and were on our way into the city.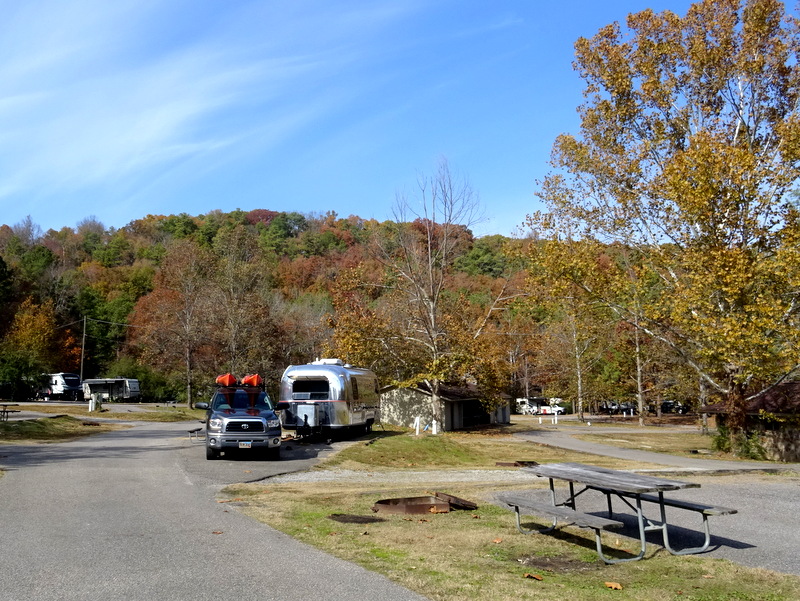 Birmingham is a completely new city for both of us so naturally, we turned to Google as a guide. According to whoever makes these kinds of lists, the number one attraction in the area is Oak Mountain Park, number two is the botanical garden, and number three is the zoo. Well, we were already at Oak Mountain with plans to explore the park the next day, it was not the right time of year for a botanical garden, and we no longer feel okay about visiting zoos. So we moved on to attraction number four – the Vulcan Park and Museum.
I wasn't sure what to expect from a giant metal statue of a Roman God but it was actually very cool and well worth the $6 per/person admission fee.
The shortened story of the Vulcan statue is that is was commissioned in 1904 to display at the St. Louis World's Fair. They chose Vulcan, the Roman God of fire & forge to represent the growing metal industry in the city. After the fair, Vulcan came back to Birmingham where he lived for close to 30 years at the state fairgrounds before being moved to his present location atop Red Mountain.
In the early 2000s, Vulcan was removed from the park for restoration. At the same time, the park was updated with outdoor exhibits and a really nice if small, museum that tells the story of Birmingham and the history of the statue. The main attraction is the statue itself and most visitors take the elevator or a set of stairs up to the base of the statue. We skipped the elevator and the narrow winding stairs were reminiscent of climbing a lighthouse except instead of looking out over the water at the top, you got a stellar view of the city.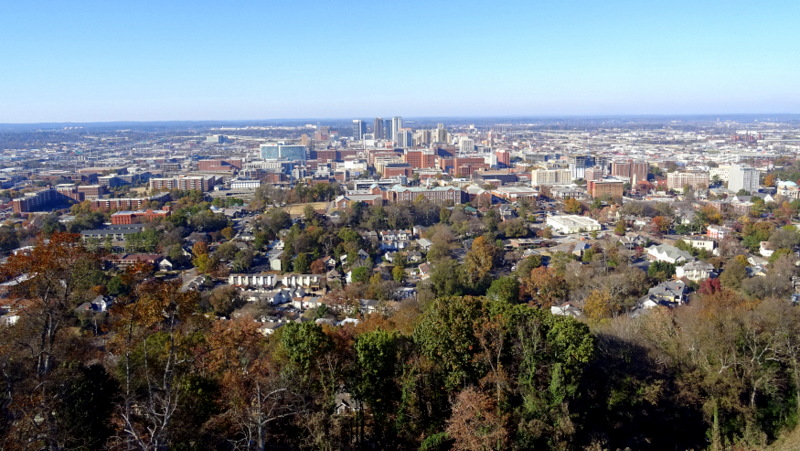 After a few hours, we left the Vulcan behind and went into the city in search of sustenance. In the form of beer. Birmingham has its fair share of breweries and Tim picked a winner with Trimtab Brewing. We shared a flight outside on the patio and then moved inside for full pints and some people watching.
I chose the apple pie sour which somehow managed to taste just like a beer version of apple pie. It sounds weird I know, but it was actually quite delicious! Tim went for the Dreams of Paradise which was a raspberry hazy IPA. Also delicious. In fact, we liked everything we tried there and really appreciated their selection that went far beyond the typical brown, red, wheat, porter, IPA…
After drinking our fill we wanted to find some dinner within walking distance. We could have stayed at the brewery and eaten at the food truck, but that would have led to more beer and since one of us needed to drive home we decided it was wise to move on. In a moment of (possibly beer-fueled) weakness, we chose fried chicken at Hattie B's.
This classic Nashville establishment now serves up their famous hot chicken all around the south. Since we missed out on Hattie B's when we were in Nashville, we decided to indulge here in Birmingham. Oh man, was it good! And spicy. I got the mild which was actually more spicy than expected and Tim went two levels up with the hot and said it was very spicy. I was afraid to even try it.
The next day we attempted to work off some of that fried chicken goodness with a hike around the park. While the campground itself at Oak Mountain was nothing too impressive, the hiking and biking trails were pretty awesome. With miles and miles to choose from, we decided to hike up to the Kings Chair viewpoint.
On Tuesday, we pulled out of our site at checkout time and drove over to one of the trailhead parking lots next to the lake to finish up the workday. It was far nicer than our site in the campground.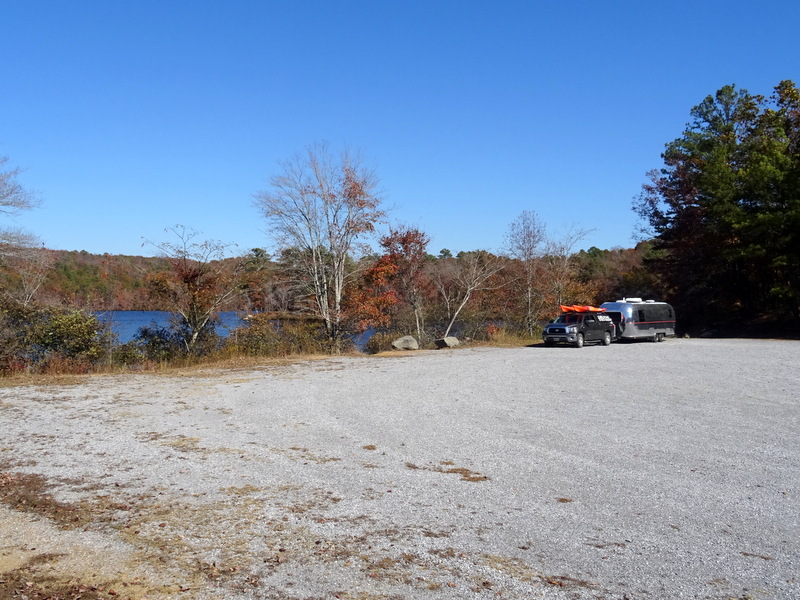 We left around four pm after two and a half hours of driving arrived at a Walmart in Sheridan, Mississippi for the night. It was a fairly sloped lot with nowhere to park along the edge, so in the morning we moved over to the nearby mall for the day. A good portion of the mall complex was empty and finding an out of the way spot to park was easy. No cars drove past all day. Don't say you heard it from me, but I suspect you could get away with parking here overnight if you arrived late and left early.
Another afternoon of driving – this time just an hour – brought us to Roosevelt State Park. I had made a reservation since I knew we would be arriving after the office closed, but it was completely unnecessary. We stayed Wednesday through Saturday morning and there were never more than a half dozen campers at one time.
We liked this little campground, and especially enjoyed our site with its wooden deck and fishing dock.
The weather was warm and we both enjoyed some outside time. Tim even had a meeting outside and then later took his kayak out for a short paddle around the lake.