July 11-24

Over the years, we've explored a lot of Washington state – the Olympic Penninsula, the Northern Cascades, east of the Cascades, both north and south – but somehow the area around Mount Rainier has always escaped us. I blame this oversight mostly on the fact that there is a large circle around the mountain where decent cell service does not exist. Not unusual for this kind of densely forested, mountainous area, but also not in line with our requirements for making this lifestyle a reality.
This year we were determined to visit Mount Rainier and the surrounding area even if it meant staying farther away and driving to the "good stuff" more than we normally prefer. In the end, it worked out really well and by using Tim's reservation site we were able to snag two consecutive weeks at public parks along Rt. 12. which runs roughly west to east between the triangle of Mt. Rainier, Mt. St. Helens, and Mt. Adams.
Our first stop was Ike Kinswa State Park on Mayfield Lake. The campground is set deep in the woods with generously sized sites and easy lake access. Many sites, including ours, back up to the lake making it easy to paddle around or take a dip without having to drive anywhere. We got very, very lucky and ended up with one of the best sites in the campground.
While the dense forest blocked any direct view of the water view from our site, a short path wandered through the trees and ended at a tiny beach area. We ate dinner down there the first night and then used it as a launching area for our kayaks for the rest of the week. We left the kayaks down there for a few days but quickly discovered that wasn't the best idea because the lake level rose and fell quite a bit. Even though we had them tied up, at the high level one large wave caused by an overzealous boater would have been enough to soak the insides with water. So we moved them up to our path. It was still so much more convenient than visiting the boat ramp every day and hauling them up and down from the top of the truck (a process that requires two people and a ladder).
With the boats so convenient to the water, kayaking became our major activity of the week. Mayfield Lake is actually a reservoir created by damming a portion of the Cowlitz River. The water is crystal clear and warm enough for swimming. Even though we stayed there in mid-July it was the first real summer-like weather that we had all year since we had been on the coast for the past few months. With temps rising into the 80s and the summer sun blazing into the evening, we happily enjoyed several evenings filled with swimming and boating.
The lake is popular with boaters and fisherpeople, but also great for kayaking or paddleboarding because there are several narrow sections for exploring. Ike Kinswa is located on the northern shore of the lake near the inlet of the Tilton River. This is one of the narrow sections that, while accessible for small motorboats, is more suited for small human-powered boats. One afternoon we paddled the river for several miles, through a gorge with high cliffs on either side and past small islands filled with shorebirds.
After a delightful week at Mayfield Lake, we moved about 15 minutes down the road to Mossyrock Park on Riffe Lake. Riffe is another reservoir on the Cowlitz River that generates power for the surrounding areas and the campground is owned and operated by Tacoma Power. It was our first time staying at a park operated by a power company although there are quite a few around Washington and California.
It was a fairly typical public campground with a couple of separated camping areas offering different experiences. Some with power and water, some with no hook-ups and lots of trees, a grassy area for tents, and a large overflow RV section off to the side of the boat launch parking lot. We were in the Cascade loop in a nice pull-through site with electric and water hook-ups and a paved parking pad. It was another warm week, but the single tree in our site shaded us all afternoon and provided just the right amount of cooling so that we never even considered turning on the AC (we avoid using our noisy AC unit as much as possible).
On the downside, our site was right on the main path to the beach, camp store, and bathrooms. This has been our summer curse. We've stayed in more sites next to public paths this year than ever before. The most annoying part was that the layout of the campground was missing a way to access the path from the loop of sites behind us which meant that most people walked through our site. We tried to defend the perimeter with our stuff, but that didn't help. Several times we had people walk through our site between our trailer and truck which were parked roughly five feet apart. Even after I put a table with a grill there some rude people still squeezed through nearly knocking the table over in the process. WTH is going on? We have witnessed more rude behavior this summer than I ever thought possible.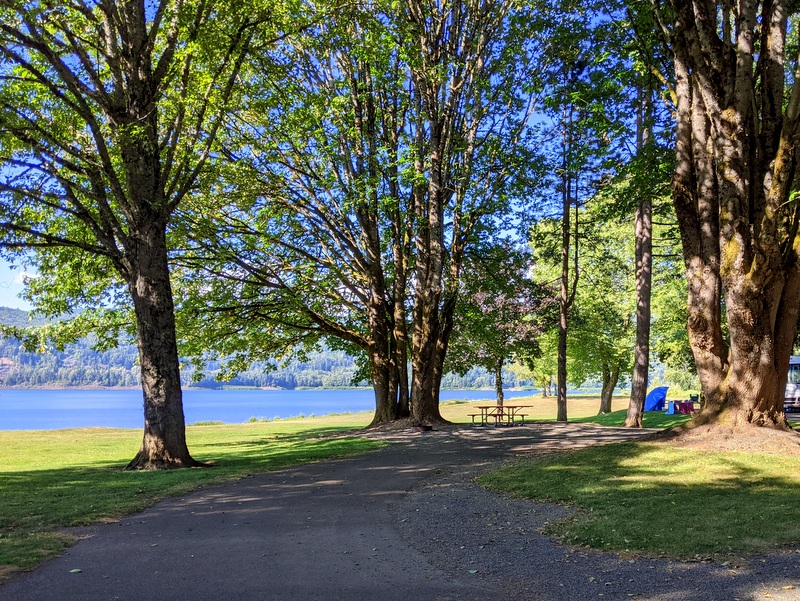 Despite these annoyances, this is really nice campground and probably a great place early in the year or later in the fall when it's not so busy. However, July is a madhouse with no enforcement of any rules and a stupid amount of golf carts zooming around. One night we listened to a thumping dance party happening a few sites away until well after midnight. I guess it's the kind of place you go if you want a family-oriented party vibe. A quiet week in the forest near a lake? Not so much.
Enough about all that though. When we could escape the campground we had a blast paddling around and swimming in Riffe Lake. The perfect summer weather continued and we quickly discovered a few places where we could paddle to and then jump in for a swim.
Riffe Lake is large – 23.5 miles long to be exact – and very, very popular with boaters. The boat launch was nearly always busy with trucks and boats. After putting the kayaks in the first time we were devised a way to avoid the launch for the rest of the week. First, we landed at the swim area and carried the boats up a grassy hill to our site. That was okay for a one-time solution but at 45lbs each, our kayaks are not much fun to carry up a hill. So we scouted around and found a place off to the side of the dog area where we could easily access the water. We ended up leaving them in the tall grass by the water's edge for the next few days. We brought our paddles and life jackets back to our site and decided we were okay with taking the risk that someone walked off with the boats since it would have meant carrying them roughly a 1/4 mile to the parking area.
There was a near-constant wind blowing on Riffe Lake (not to mention lots and lots of powerboats)so we mostly paddled around the edges.
At the end of the week, it was forecasted to be really hot and while we wanted to spend most of the day on the lake, we didn't want to share it with 10,000 powerboats, so we packed up and headed down the road to Lake Scanewa.
Scanewa is another lake that was created by damming the Cowlitz River. It's farther east and therefore closer to the mouth of the river which originates at glacier-covered Mount Rainer. I mention this because the color of the lake is a stunning milky turquoise that is most often associated with glacier adjacent water.
We put the boats in at the Cowlitz Falls boat ramp and paddled around for several hours without seeing more than a dozen other people. As predicted it was hot that day and after sweating it out for a while, we found a sandy shore to land on so we could cool off in the water. Well, let me tell you, even though we had only traveled about 20 miles closer to the river source, it was sooo much colder! While we had leisurely floated around both Mayfield and Riffe Lake, this time we were in and out in a matter of minutes. Whew! Nothing like some straight from the glacier water to cool you off in hurry.
Not to be outdone by the lakes, we also visited a very famous volcano while in the area. It was about an hour and a half drive to Mt. St. Helens, which is generally a bit farther than we want to go for a one-day adventure. However, we're talking about a giant stratovolcano that last exploded only 41 years ago! When you look at it that way, how could we not drive an hour and a half to see it?
Mt. St. Helens is officially a National Volcanic Monument which is managed by the National Forest Service. There is no fee to park at or visit the Johnson Ridge Observatory. Located in the center of the blast zone and only 5 miles from the summit, this is an amazing place to visit if you want to see an exploded volcano up close.
Unfortunately, the observatory was closed due to Covid, but there were a few information signs outside and some volunteers roaming around to answer questions. While coming here just to look at the mountain is pretty cool by itself, there are also tons of trails in the area along with several lakes and backcountry campsites, making it a destination for outdoor recreation.
We choose a long hike that took us along Johnson Ridge, past St. Helens Lake, and up to Coldwater Peak. On the way, we enjoyed views of Mt. Adams, Spirit Lake, and of course, Mt. St. Helens.
It was a Sunday in July and we went in expecting to be hiking with a crowd. And we did. In fact, there was a 50k trail race happening that day and we passed hundreds of runners throughout the hike. Fortunately, they were running in the opposite direction from us, so we could always see them coming in time to step aside. It was actually quite fun to wish them luck and cheer them on. Also, a 50k with 10,000 feet of combined elevation gain, made our 12-mile, 2,400 elevation gain route seem like a walk in the park!
Even though the long drive was worth it for our visit to Mt. St. Helens, we wanted to spend more than a single day at Rainier, so chose to move closer to make that happen. As luck would have it, we found a great home base just outside the tiny town or Packwood within an hour's drive of the mountain. More on that next time…