Our timing has been off for optimum fall foliage viewing this year. We left Vermont just as the leaves were starting to turn, saw only a bit of color on the Cape and in Rhode Island, and then by the time we got to Connecticut it was more like winter than fall. So as you can imagine, we were thrilled to find fall in full-on frenzy mode upon arrival in Delaware.
We first discovered Lums Pond State Park last summer when searching for a place to stay while visiting Tim's sister and family. Located only 20-30 minutes from their house (as with everything in this part of the country, traffic dictates how fast you can get anywhere), close to a decent grocery store, and surrounded by acres of woods, fields and a scenic pond, this sweet little park makes a perfect home base for our Delaware visits.

Since our last visit, there has been a number of improvements made to the park. All the sites now have full hook-ups and paved parking pads, plus they added a much needed new bathroom with showers. Of course, if they had consulted me before making these improvements I would have suggested making the paved parking pads longer, and actually leveling them before paving, but I guess the word about my expertise in campground design hadn't reached the good folks at Lums Pond :)
While we enjoyed our time at the campground, the highlight of our week was spending time with these two.
Aaron(6) and Ella(3) are both at the age when the idea of camping is fun and exciting so we had no trouble convincing them to come over a few evenings during the week to hang out at our site. There was some bike riding, some raking, a fire with roasted marshmallows, and of course, lots of silliness.
At the end of the week, we took a trip to Longwood Gardens in nearby Kentwood Square, PA. The kids are pretty familiar with the gardens and eagerly showed us around, starting with the treehouses, of course.

Followed by a couple rounds at the ring of jumping stumps.

We then made our way down the meadow…
Stopped for a quick look at the pond.

And then strolled over the conservatory with a quick detour to see the shrub sculptures on the way.

The conservatory at Longwood Gardens features different themes throughout the year. Given that this is the fall season, it only makes sense that the current theme is chrysanthemums. Now, I'll be the first to admit that chrysanthemums (or just mums) are not the most exciting flower. Like their seasonal cousin, the poinsettia, mums saturate the aisles of home improvement and grocery stores at their designated time of year. Offered up in dull shades of orange and clashing hot pink, they are often presented as the only flowering plant for fall, and as a result have become somewhat ordinary. 
Well…let me tell you that the Chrysanthemum Festival at Longwood Gardens was anything but ordinary. With mums of every color shaped into pom poms, giant balls, spirals and impressive sweeping displays, I doubt I'll ever think of the common garden mum the same.
The conservatory at Longwood Gardens is massive. It goes on seemingly forever, with tall glass-paneled rooms flanked by vine-covered columns, narrow hallways lined with lush tropical ferns, an entire greenhouse dedicated to silvery desert plants, a "trophy wall" of staghorn ferns, giant palms, dainty orchids, and so much more.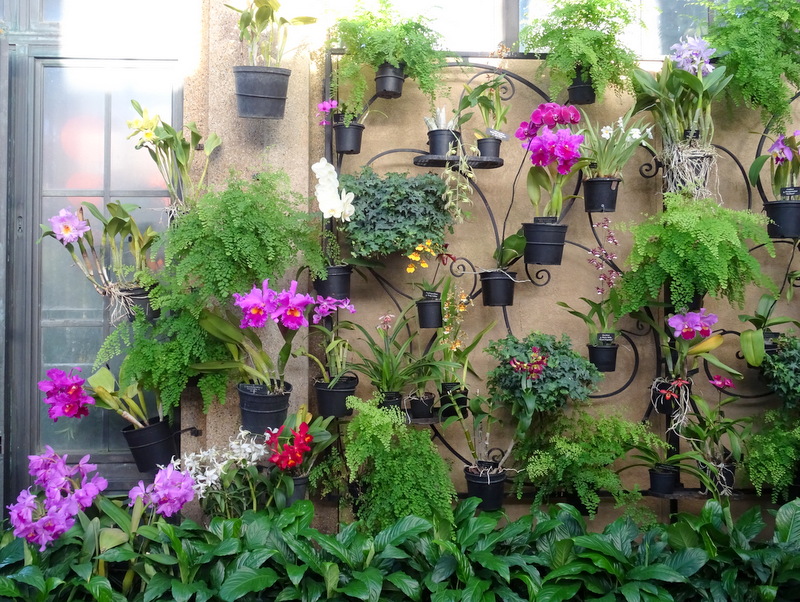 So much fun! Not sure when we'll make it back to Delaware, but when the time comes Lums Pond and Longwood Gardens are both on the must return list.