May 2-15
OREGON!!!!! Did I say it loud enough? Can you hear me in the back? Just in case you missed it, we are in OREGON! Why so much shouting? Because we love it here. We love the towering trees, jagged volcanic mountains, and plethora of natural lakes. We love the small towns infused with the perfect mix of touristy charm and real-life grit. We love the wild and undeveloped coast filled with sandy beaches and river inlets for exploring. And we really love those Oregon state parks. I'm sure I've said it before, and I'm sure I'll say it again, but Oregon has the BEST state parks.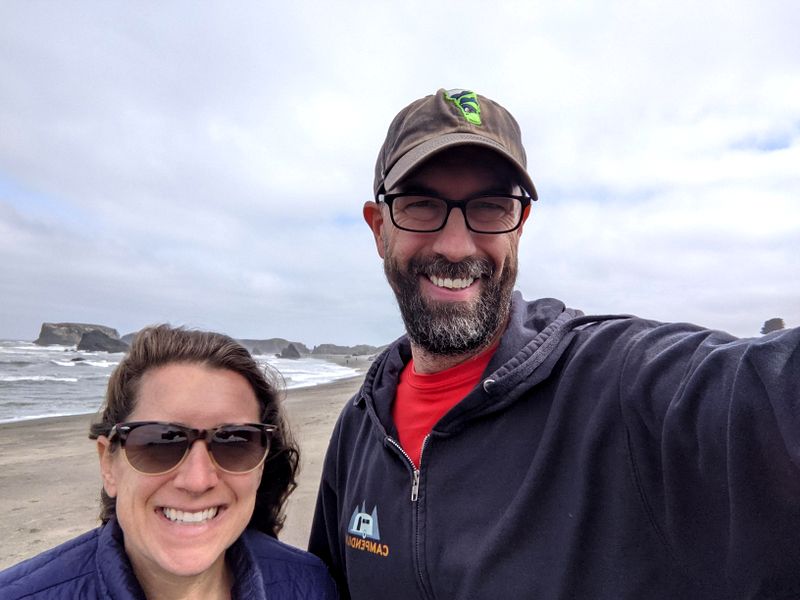 I mean, is there anywhere else where you can get a site with full hook-ups, a paved parking pad, generous spacing from the neighbors, and this view for only $32/night? Oregon, you rock.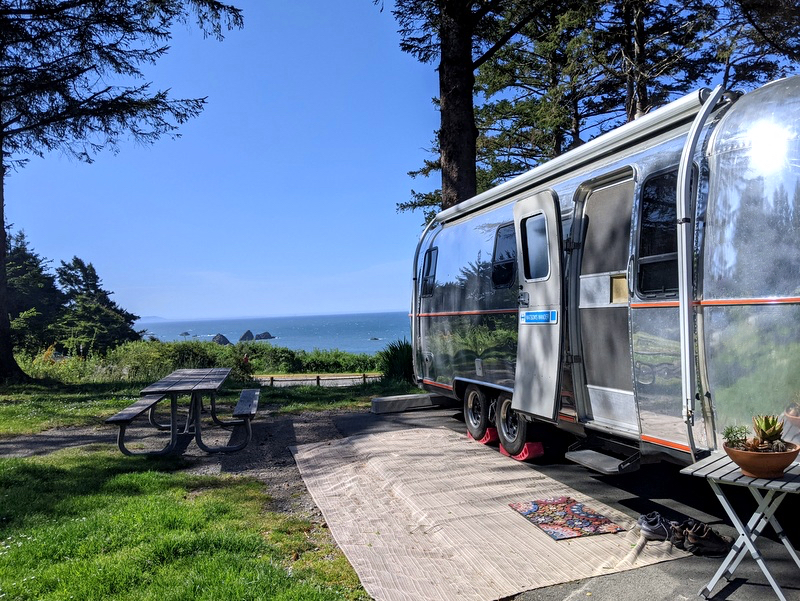 The last time we visited the Oregon coast was way back in the fall of 2012. We were only about four months into our full-timing lifestyle and traveling at a fairly fast pace. It was late September and with very little planning and no reservations, we were able to make our way down the coast stopping for numerous short stays at various state parks.
Well, times have changed, both for us and the general state of campsite availability. This year, we're planning, reserving, and searching for cancelations to ensure that we can get into these very popular parks. So far, it hasn't been overly busy anywhere – at least not during the week. I think May is still considered the early season at most of the coastal Oregon State Parks.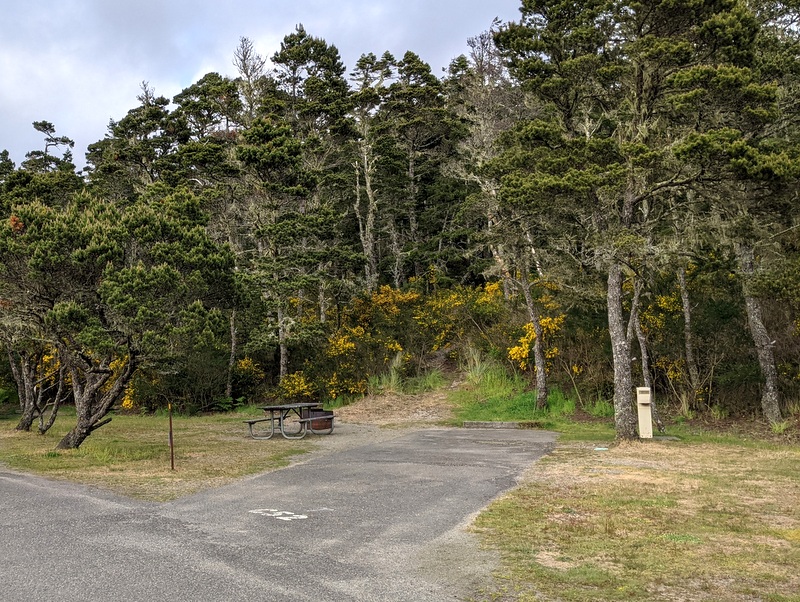 Both Harris And Bullards Beach offer a selection of sites on a first-come-first-serve basis until the end of the month. While we were hesitant to arrive without a reservation, both campgrounds had open, walk-in sites that would have worked for us at the times of our visits. Of course, the best sites, like the ones with ocean views at Harris Beach, are reservation only.
Visiting the Oregon coast in early May is a bit risky in terms of weather. We came early in hopes of avoiding crowds, but we knew that the trade-off would be cool, cloudy, and rainy weather. What we didn't expect was the wind. So far it's been not as rainy as expected with only occasional short rain showers, but the wind has been a constant companion. Our site at Harris Beach SP was particularly windy with a biting cold breeze coming off the water right at us. I guess these views come with a price.
Despite the cold wind and fog that often blanketed us for hours at a time, we thoroughly enjoyed our week at Harris Beach. We walked the beach and watched the waves, searched tidepools for ocean life, and saw our first sunset over the ocean in years.
Just north of Harris Beach lies the Samuel L Boardman Scenic Corridor. This 12-mile stretch of coast features rocky outcroppings and hidden beaches. We found a pamphlet in the information booth at the state park containing a map and description of points of interest. According to the map, there appeared to a trail that ran the entire length of the scenic corridor. Immediately, I began planning hiking routes.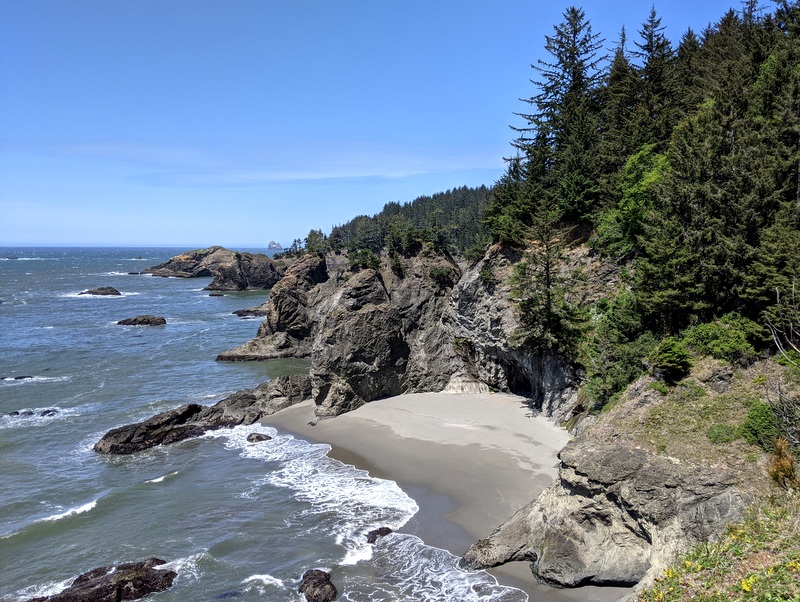 We ended up hiking sections of the SLB corridor twice during the week and managed to cover almost all of 12 miles. Most of the designated viewpoints and connecting trails are high on a cliff overlooking the ocean, offering some pretty amazing views.
The trail bounced along the strip of forest between Hwy 101 and the sheer cliffs that plunge into the ocean below. Sometimes we found ourselves hiking deep in the tres, and other times out in the open on a windswept cliff.
Occasionally, there were narrow, twisting tracks the took us down to the shore. Once to Whaleshead Beach where had the entire beach to ourselves on a very windy, cold afternoon.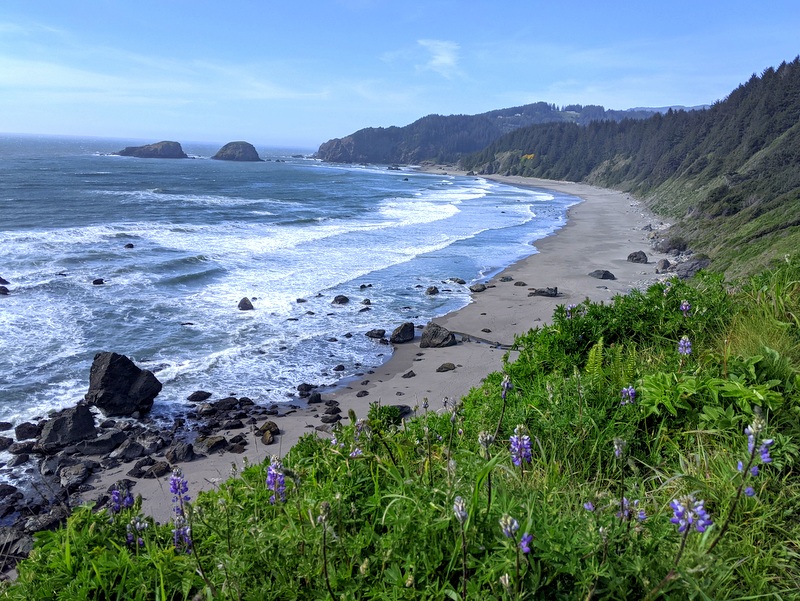 And another time, to "Secret Beach" where we discovered a protected sandy cove perfect for beach lounging at low tide.
At the end of the week, we moved about an hour and a half north to Bullards Beach SP. We were a bit early for check-in so stopped in the tiny town of Bandon first. Our goal was to find lunch, specifically some fresh fish and chips. If you're looking for fresh seafood, Bandon has got it covered. We had our pick of options but based on our hunger level and lack of desire to wait in the cold wind, we choose the least busy option – Bandon Bait. More than just a place to buy bait for fishing and crabbing, they serve up some good eats including a delicious platter of perfectly battered fresh fish and chips.
Our site at Bullards Beach SP was in the A loop where all the sites have full hook-ups. Yeah I know, we're getting spoiled.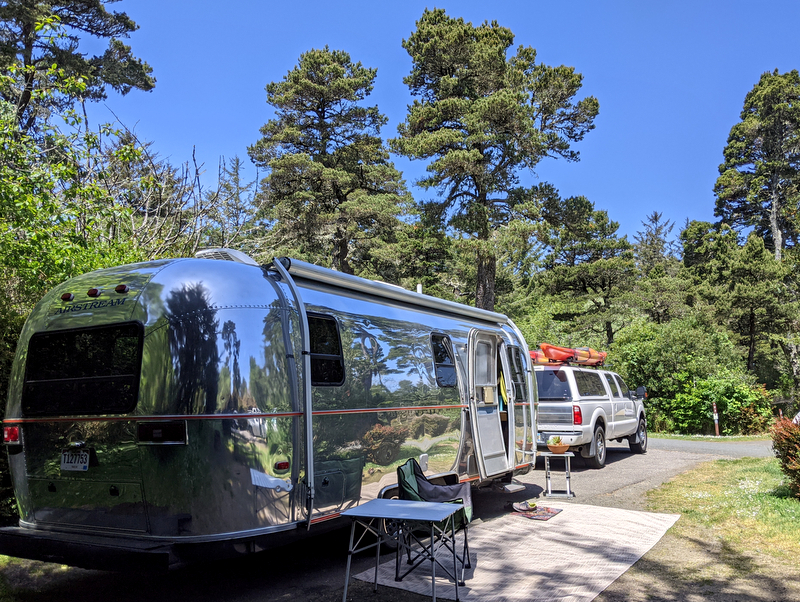 The campground at Bullards Beach is about a mile from the beach with a stretch of forested dunes and marshland between the campground and beach serving as a barrier of sorts for the near-constant wind. Good thing because the wind was out in full force for the entire week. As a result, we skipped the beach most days in favor of walking around the campground trails and site loops.
We did brave the wind late one afternoon so we could see the Coville lighthouse. Bundled up in all our layers with hats and hoods, we even managed a 4-mile beach walk.
On the day before we were due to leave, we had planned an Adventure Saturday that involved a morning beach walk followed by afternoon kayaking in the Bandon Marsh National Wildlife Refuge. Unfortunately, this plan was foiled by – you guessed it- the wind. While the kayaking portion of the day was a bust, the beach walk was fantastic despite the crazy wind.
Up next: A tiny campground in the forest, giant mounds of sand, lake paddling, and beers on the patio!