January 1 – 31
Winter is always a social time of year for us. As all the nomads filter south to the warm spots, it becomes almost more work to avoid social situations than it is to seek them out.
We started the month in the same place we ended the last – camped on Plumosa Rd. just north of Quartzsite with the leftover Xscapers NYE group. Our intentions were to possibly move somewhere new after the gathering ended, but it was just too easy to stay our full two-week limit (BLM land regulations).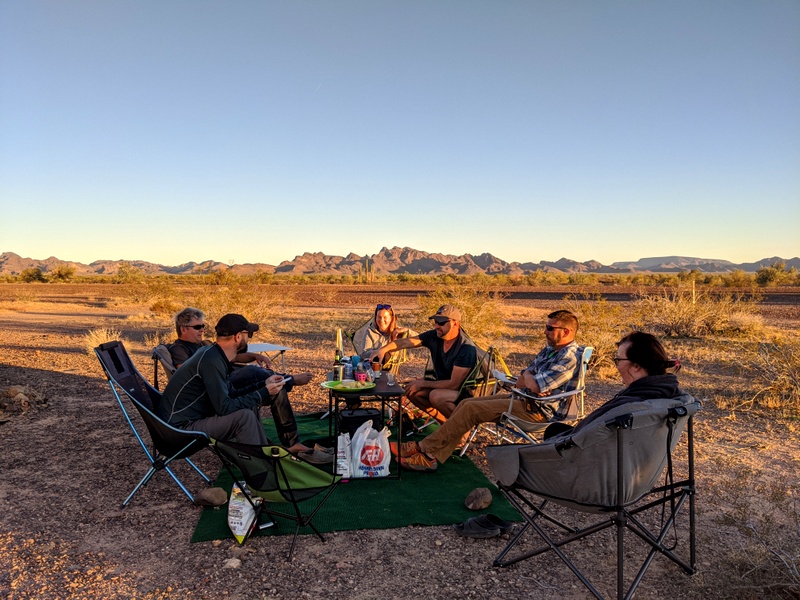 The large group of roughly 200 RVs thinned out considerably the weekend after New Year's and by the second week of January the hardcore party people (code for people who are noisy until late in the night) had left and we enjoyed a somewhat peaceful stay on the edge of the group.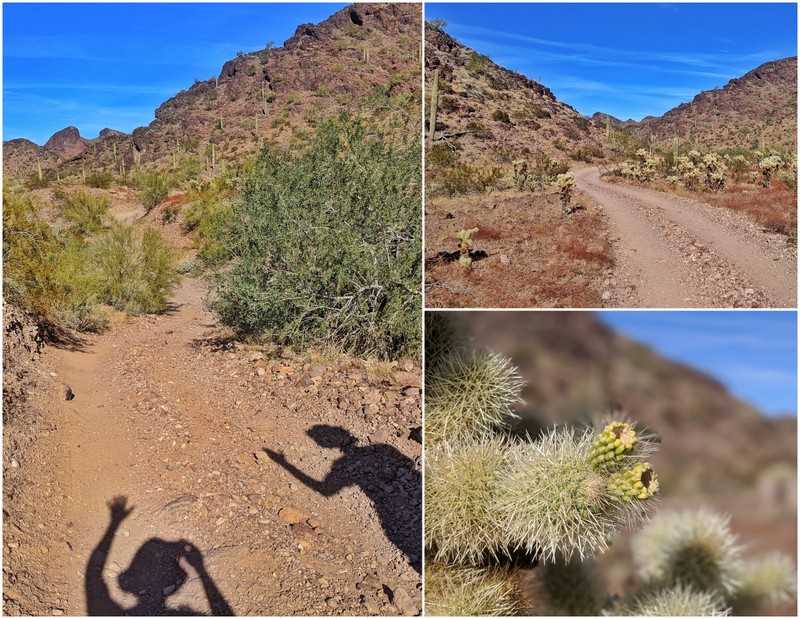 At the end of our two-weeks on Plumosa Rd. we moved about an hour north to Lake Havasu City for the Xscapers Annual Bash. This was our second year attending, and just like last year I went into it with some trepidations and left with an overwhelming feeling that attending was indeed the right decision.
The Annual Bash was even bigger this year with around 500 RVs and 800 people in attendance! Like most, I find groups this size somewhat intimidating. The core idea behind the Xsacpers seems to be making connections with others who share a similar lifestyle and interests. However, with such a massive amount of people, it's only natural that small groups are going to form, which then becomes a barrier of sorts for meeting new people.
I am fairly good at striking up conversations with strangers, but not so good at approaching a group of people who already appear to know each other. We did meet a few new people though and I think for RVers just starting out on the road, attending an Xscapers event is probably a great way to find a community.
Speaking of community, I'll be the first to admit that part of the reason why we didn't meet a lot of new people is that we spent much of the event hanging out with the people we already knew. I mean, can you blame us? Not only is it easier and more comfortable, but we've made some really great RV friends in the past 7+ years and because of the nature of our chosen lifestyles we don't get to see them all that often. So of course, if we're together we want to spend time with them.
The experience was a little different for us this year because we waited until the last chance to buy tickets and were not able to get a spot in the solar section. That meant we couldn't park next to friends like we did last year, and that we were surrounded by people who relied on generators for power. Neither ended up being a big deal, although by the end of the week I was desperately looking forward to a morning where I wasn't awoken at 7 am by a symphony of generators. Probably the best part of being parked in the upper general section was that the cell service was much, much better than what we endured last year in the solar section. Since Tim worked all week and has video meetings almost every day, this was a big relief.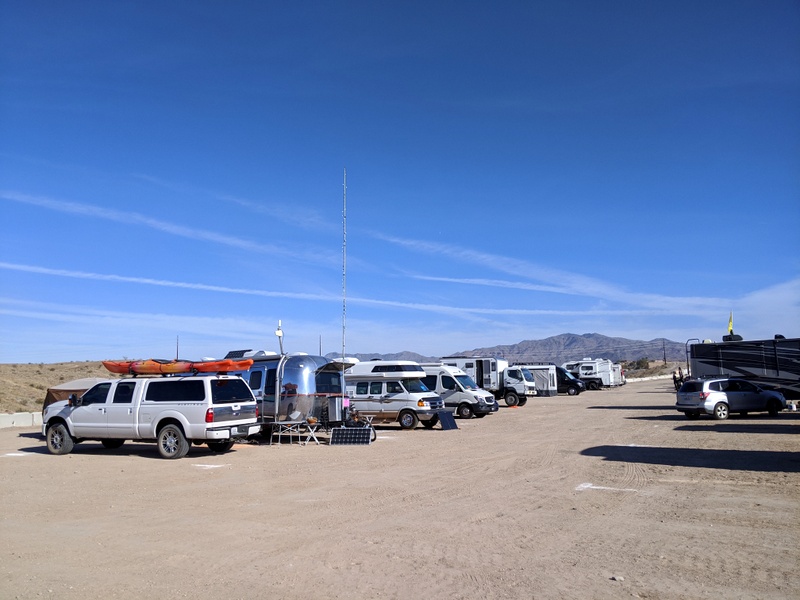 The Annual Bash is the biggest Xscapers event of the year, and as a result, the schedule is jam-packed with activities all day long. Doing everything was neither feasible or desirable, but I think we did a good job of picking and choosing the activities that interested us most. I was thrilled to learn that the same yoga instructor from last year was back for morning classes. Even better, she taught six days instead of only two. I managed to make it every single one, even the morning after the margarita/tiki night.
Some of my other favorite activities were the mac n' cheese fest where I narrowly missed the third-place prize with my green chili mac n' cheese dish, the roaming happy hour where all 50 of the mini appetizers I made disappeared in approximately .5 seconds, and the Xscapers Olympics where I may have taken a tumble off my mini bouncy horse, but our team pulled out a victory at tug of war.
Overall, we had a blast. There's something to be said about the energy that radiates around such a big group. And while I generally prefer to spend time with smaller, more intimate groups, every once in a while it's good to step out of the comfort zone. The jury is still out on whether we will go again next year.
After the excitement of the bash, a small group of us moved south to the Imperial Dam LTVA in search of a quiet place to spend the rest of January. None of us had stayed at an LTVA before and I think it would be safe to assume that most of us would not put this kind of boondocking area high on the list of places we must return. Mostly because it was extremely crowded.
The deal with the LTVAs is that they are managed BLM areas offering dump stations, water, and trash. For $40 you can stay two weeks, or for $140 you can stay the whole season — which I think is 7 months. This is a great deal, and as a result, these areas are VERY popular. So popular that our group of six RVs had a hard time finding a place to set up. It's obvious that many arrive here in the fall, stake out their territory and stay for the entire season. There's a common practice of moving around rocks to designate your space and to keep others away. Which seems a little strange considering that it's all public land.
Despite the semi-weirdness and extreme business of the LTVA set-up, we very much enjoyed our two weeks at Imperial Dam simply because of the people we were with. There was a rotating group of friends who arrived and left over the course of 14 days with our peak at six RVs and our average around four. This is by far my most favorite way to RV. A small group of good friends who do their own thing during the day and gather in the evening for group walks, happy hours, and meals – or not. Most of us in the group had been to the bash so some quieter social time was needed for all.
Tim and I caught the cold that had been going around the spent much of the first week laying low. By the weekend we were both feeling better and got out for some bike riding, hiking, and even a fun group kayak/paddleboard around the reservoir.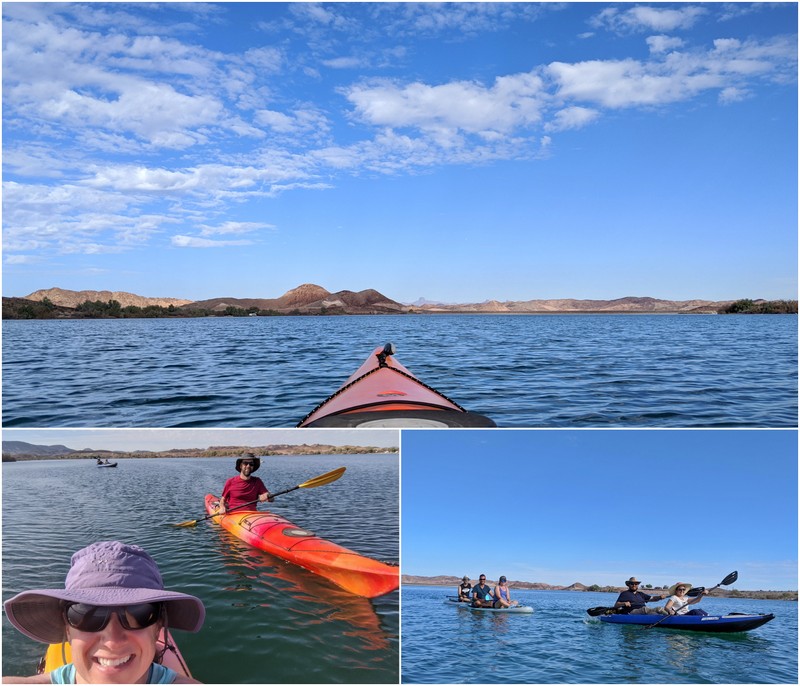 Week two brought a new set of friends, an outdoor pizza party, two nights of campfires, and another fun hike in the desert. The weather for most of January was absolutely delightful and we are grateful every day that we get to spend the winter roaming around the southwest soaking up the sun and spending time with great friends. We're not 100% sure what we'll be up to in February, but it's sure to be wonderful.