February 2-8
We spent the first week of February just west of Yuma on AGM road (American Girl Mine rd). This is not a new spot for us – or most full-time RVers for that matter. AGM is a HUGE, flat area with room for hundreds of RVs, fast cell service, easy access to I-8, close proximity to Los Algodones for all your dental and taco needs, and plenty of open land for walking/hiking/biking.
We arrived on Super Bowl Sunday with the last remnants of the group we've been with since before Christmas. We were the first to arrive and quickly drove past the groups of RVs to a large open spot away from any potential noise. Shannon & Dave + Lauri & Jase soon followed and with plenty of space to spread out, we arranged ourselves into a wide oval.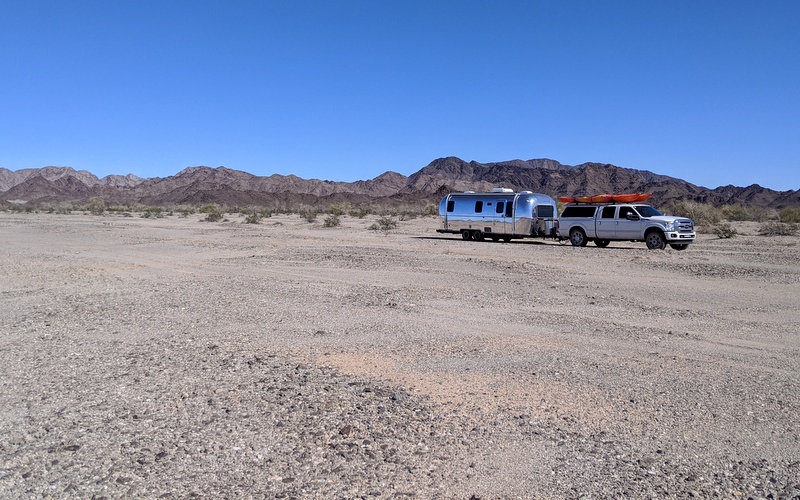 It was a fairly quiet week on the social front. Which was fine with me as my social meter is spilling over and just about due for a re-set. That's not to say we didn't have any social fun. In addition to a Sunday night spent potlucking and watching commercials – I mean the Super Bowl – we had a group dinner out in Yuma at Prison Hill Brewing, and a fun evening hike around the sand dunes with Shannon.
The Imperial Sand Dunes are massive. I'm talking 40 miles long by 5 miles wide massive. For some reason, in all the times we've stayed at AGM we've never visited the dunes. Given that I find sand dunes completely fascinating and usually never pass up an opportunity to play in them, this is kind of puzzling. Well…maybe not so puzzling since the majority of these dunes are basically a giant playground for off-road enthusiasts and are therefore teaming with fast-moving, noisy vehicles.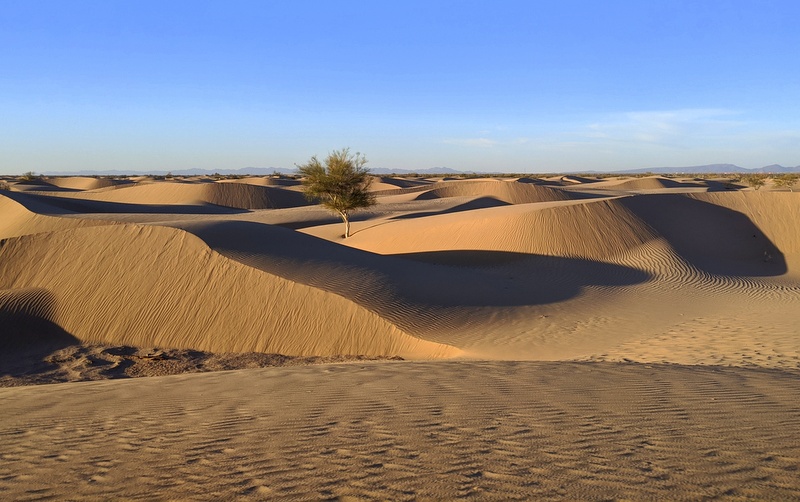 There is one area of the dunes designated as wilderness where vehicle use is prohibited, but it was a nearly an hour drive from us, so not a great option for an after-work outing. Instead, we dove over to a nearby area on the map marked Ogibly Campground BLM (there was no sign of a campground) and parked at the edge of the dunes. Soon we were walking up, on, and around piles of super-fine, wind-sculpted sand.
This area of dunes doesn't have the impressive 300-foot tall sand mountains that you will find in the spots popular with the OHV crowd, but it also doesn't have the OHV crowd. While we saw a well-worn track that zipped through the low parts of dunes, we didn't see or hear anyone else during our visit.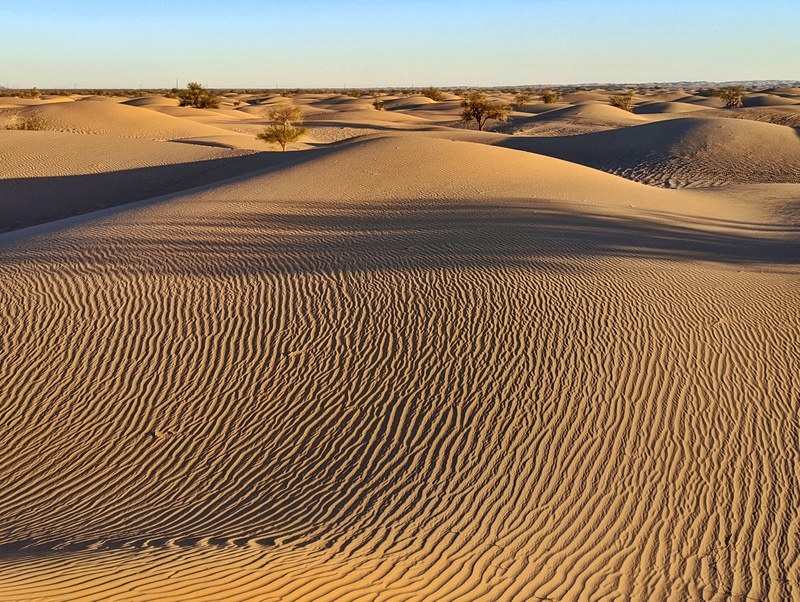 At the end of the week, it was time for us to move on down the road. For the first time in seven weeks, we would be venturing off on our own. Our destination was Joshua Tree National Park – or rather the BLM area just outside of the south entrance. We stayed here back in 2016 and found it convenient to both the park and shopping options in Indio. It also offers plentiful space for numerous RVs and blazing fast cell service.
To get there from AGM we had several route options all about the same time and distance. For the sake of not driving the same route over and over again, we chose to travel on CA-111 up the east side of the Salton Sea. We've driven CA-86 along the west side of the lake many times and this was a nice change. Perhaps the best part about our decision to take this route was that we randomly stumbled upon the International Banana Museum!
I say randomly stumbled, but in all actuality, I doubt we would have noticed the run down and faded sign had we not spotted it on Google Maps when looking for a place to dump our tanks. (Side note: the Salton Sea Recreation Area offers an RV dump for only $7.)
The Banana Museum is a tiny, one-room affair stuffed full of banana memorabilia. It's only open on weekend afternoons, they sometimes close in the summer, and they keep a tight wrap on the number of people who can enter at one time which means you may have to wait outside for large groups to leave before you can enter the banana sanctuary.
The museum is run by a husband and wife team. As far as I could tell, the husband was in charge of manning the door, enforcing the strict no video rule, and dishing out the ice cream and frozen bananas. The wife took our $1 admission and payment for the frozen banana treats while offering a quick run-down of the place all while speaking almost exclusively in banana puns.
We probably only spent about 15 minutes inside the museum and I doubt we would go out of our way for a repeat visit, but it was a welcome diversion from an otherwise boring travel day. Highly recommended if you find yourself traveling on the east side of the Salton Sea on a weekend afternoon. While you might not go bananas over this small roadside attraction, it is guaranteed to be bunches of fun.