If you go all the way out to the very tip of Cape Cod, all the way to where the land curls in on itself and the sea swirls on all sides, you will find Provincetown. This historic town is where pilgrims on the Mayflower first landed back in 1620, where 200 years later a bohemian artist culture was established, and where today a thriving LGBTQ community shapes the community. Provincetown — or P-Town as the locals call it — is part New England coastal town, part fun and funky artist colony, and 100% a welcoming place for people of all kinds.
This was my first time visiting Provincetown and I instantly fell in love. From the understated architecture to the carefully cultivated landscaping, colorful art galleries, waterside restaurants, long stretches of unspoiled beaches, and welcoming atmosphere I felt like the whole town was inviting me to stay awhile. I definitely understand why people come back here year after year.
Coastal Acres Campground
If you want to be close to the action in Provincetown, Coastal Acres Campground is the best choice. It's also kind of the only choice for most RVers. There is one other campground in Provincetown called the Dune's Edge, but it's more suited for tents and vans. They do have a small number of sites with 20-amp hook-ups that will accommodate up to 30′ motorhomes or 24′ trailers. I'm sure our 25′ trailer would have fit (we've been known to squeeze into small sites before), but since the whole idea behind coming to Provincetown was to explore the town, we chose Coastal Acres for its proximity to town.
Coastal Acres is located smack in the middle of town. A quick 10 minutes stroll puts you right on Commercial street where an assortment of stores, restaurants, and nightlife await your pleasure. Despite the convenient location, I wasn't expecting much at Coastal Acres. From all the reviews I read and the few pictures I could find online, it looked like a cramped park with lots of permanent RVs in various stages of disarray. I wasn't completely wrong…
But I wasn't completely right either. We arrived on Columbus Day weekend and the park was predictably busy. Our little section of the campground was nearly full and we had neighbors on both sides and an RV behind us that looked like it hadn't moved in at least 10 years. The sites are set up kind of weird in that there was no way to tell where your site ends and the neighbor's began. They're also on the short side so we had to wedge the truck between the Airstream and some trees. It really didn't matter though because at the end of the weekend everyone left and we practically had that whole half of the campground to ourselves for the remainder of our stay (except for that ugly RV behind us).
I think if we were to stay there again — and we would stay again based on location alone — we would request a site in a different part of the park. The other side had more defined sites, and while none offered privacy like you find at a state park, the sites were laid out in a more organized and typical fashion. I really dislike having an RV directly behind us because it ruins the bedroom window view (which I can see while sitting on the living room couch). The site quality and size vary widely here, but I saw RVs of all sizes, so I think anyone could fit. The only limiting factor is the lack of utility hook-ups. There is no sewer, and the electric is 20 or 30 amp only. The website did mention a honey wagon service, but we didn't have any need during our stay so I never inquired about it.
Overall we enjoyed our stay at Coastal Acres. It was quiet at night, close to town, and despite the shared utility hook-ups, coin-op showers, and a few run down permanent RVs, we found it to be a pleasant place. Was it worth the off-season rate of $52/night for a 20amp site with a broken picnic table? Well…probably not, but value is relative and the convenience of being able to walk into town or ride our bikes to the beach is something we're willing to pay more for.
Commercial Street
We took advantage of our convenient location by walking or biking nearly everywhere. Despite some impossibly narrow roads, the town is very bike/pedestrian friendly with abundant bike lanes and a low-speed limit. I quickly realized that my favorite place to walk was Commercial Street. This main thoroughfare stretches along the waterfront and is overflowing with boutiques selling handcrafted jewelry, tiny bakeries emitting tantalizing scents, funky t-shirt shops (seriously, these are not your average tourist t-shirts), antique shops, and more places selling ice cream than I could count.
On either side of the main commercial area are residential sections featuring some truly gorgeous homes. On the west end of town, you'll find lots of older homes crafted in the traditional Cape Cod style with cedar shingles and white picket fences holding back masses of pink and blue hydrangea blooms.
It's also where you'll find the Long Point Floating Homes. These houses were once part of the Long Point settlement located across Providence Bay on the very tippy, tippy top of Cape Cod.
This sandy and inhospitable spit of land was settled in the early 1800s because of its proximity to abundant fishing grounds. By mid-century it had had more than 200 residents, a school, a post office, a bakery, a lighthouse and a thriving saltworks operation. The fun only lasted so long though and as shore fishing became more difficult and the price for salt fell, the settlement declined. The financial hardship combined with a lack of consistent fresh water and roads to neighboring towns created a situation ripe for desertion.
But the residents were not ready to give up their hard built homes. So they decided to bring them along when they moved. Beginning in 1850, between thirty and forty homes were loaded on rafts and floated across the harbor to Provincetown. Today these Long Point Floaters, as they're known, are marked with a white-on-blue plaque showing a house in the water.
Floating homes aside, the rest of the journey along Commercial Street is a feast for the eyes filled with lovingly restored older homes, stately Inns, a lively section of shops and restaurants, and a long stretch of tiny galleries on the east end.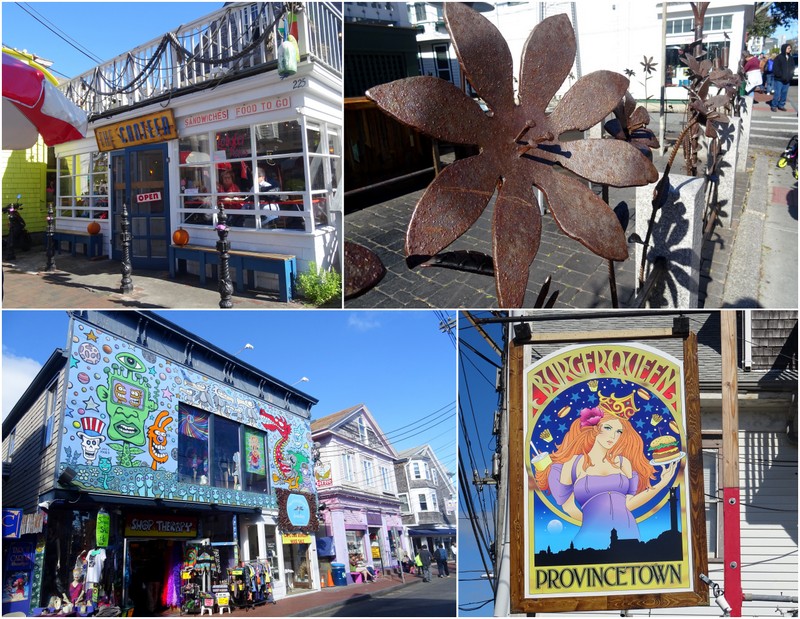 Food, Drink & Nightlife
If you're a nightlife kind of person, Provincetown is your place. If you like alternative theater, live music, themed dance parties, upscale dining, craft cocktails, or cheap eats served overlooking the water, Provincetown is your jam. In short, if you like to eat, drink, or have any kind of fun, Provincetown has got you covered.
We were fortunate to be joined by family during our week-long stay in Provincetown. Tim's uncle who lives in Boston has a part-time apartment here, and he, along with Tim's cousin and mom, were able to come out and visit us for part of the week. Not only was it great to spend time with family, but we also got the low down from an "almost local", and an excuse to eat out way more than usual. We tried a bunch of different places and in the end, my favorite meal was the plate of crispy fish tacos with a tangy slaw that I had the first night at the 1620 Brewhouse.
*One thing to note is that if you visit during the off-season like we did many of the restaurants are only open on the weekends. Plan accordingly.  
We also took a trip a few miles down the road to the Truro Vineyards. Here we enjoyed a tasting on their sunny patio. For $10 we got to swirl and sip our choice of five wines. I'm not always a fan of northeast wines since the grapes that grow around here tend to be sweeter and my taste in wine runs more on the dry crisp side, but I have to admit they had a few delicious wines.
Beaches
Cape Cod is serious about its beaches. With 560 miles of shoreline, there is plenty of sand filled paradise to go around. In Provincetown, you have your pick of three beaches. First, is the in-town Harbor Beach located off Commercial St. This strip of sandy beach separates the downtown from the harbor. We didn't see many people enjoying it this chilly time of year, but I imagine that on a warm sunny day this is the place to see and be seen. If that's not your scene simply travel a few miles outside of town to the Cape Cod National Seashore. Here a seemingly endless stretch of soft sand and sparkling water awaits.
At Race Point beach we stumbled upon a group of sand-dwelling RVs. Apparently, this is one of the two places where you can (legally) camp on the beach on Cape Cod. It's far from a free for all where you can simply drive up on any patch of sand or pitch a tent in the dunes. Instead, this is highly regulated, modestly sized stretch of beach where you can camp with a self-contained vehicle and the proper permit only. There are a long list of requirements (waste holding tanks, tow strap, shovel, spare tires, etc) and regulations, and only a certain number of permits are awarded each day. I can't decide if this looks like a fun adventure on the beach or a potential nightmare of rigs parked too close and generators running all night. It really doesn't matter what I think though since there is zero chance we would ever bring our Airstream out on that stretch of soft, soft sand.
From the campground, is was an easy bike ride to the beach. We only had to follow the bike lane on Route 6A for about a mile before coming to the start of the Province Lands Bike Path at Herring Cove Beach. From here we could park and stroll on the sand for miles. Or we could continue riding the path through the dunes and coastal forest. The trail was one of best we've ridden — well maintained, gorgeous scenery all around, and a challenging terrain with lots of steep uphills to get the heart pumping countered by fast downhills where you could let loose and fly around the curves.
One day we rode the entire loop trail through the dunes and low-growing coastal forest. Combined with the spur trails that led to the beaches, plus the extra distance to the campground, we clocked in a nice 12-mile ride complete with a stroll on foot around the Beech Forest and a quick detour to see the Old Harbor Life Saving Station.
For a single week long stay we managed to fit a lot into our Provincetown visit. So much in fact that I need to save to rest for another blog post. Stay tuned for more from Provincetown featuring two cool lighthouses, one big boat, and a whole lot of whales!!!