Booking an entire month at one campground instead of moving around the state like we did last year has turned out to be a great decision. In fact, we're having so much fun that we decided to stay here an extra week. That means instead of leaving this Friday for a week at Sebago Lake SP, we now get to stay here for almost another whole week. While I'm sure we would have enjoyed the state park, the appeal of this area made it an easy decision. Also, after a very busy spring and summer that had us moving somewhere new almost every week — plus that rather quick drive across the country — we're really enjoying the luxury that comes with not having to pack up and move the house so often.
Despite the extra week, we still only have a limited amount of time here so we've been doing our best to fit in as much as possible. That means more biking on the carriage trails, more great hiking around the park, and more beating the heat by getting out on the water.
We finally got out one afternoon for some ocean kayaking. The tides around here are really large which adds a bit of challenge when it comes to kayaking as you need to make sure the spot where you put in and take out is accessible (no one wants to drag their boats through a half mile of mud). Also, you want to time it right so that you're not fighting the current the whole time — cause that's just no fun.
Fortunately, there are a number of boat launches around here with really long ramps that are accessible no matter what the current state of the tide. One of those ramps can be found at the very end of Bartlett Landing Road where's there's a small cove with a marina and a concrete boat ramp next to a small section of muddy beach. Click here for a Google map link.
From here you can paddle around Mt. Dessert Narrows exploring the interesting shoreline and numerous islands.
Or, you can follow our lead and paddle approximately 3.5 miles around to the south side of Bartlett Island and dock your boats on the wide beach in Dogfish Cove. Another Google map link.
This was not a chance find for us. We actually came to this beach many, many years ago while on a guided kayak tour during one of our Maine vacations. Thanks to the magic of Google Maps (and a general idea of where we had started the trip) we found the beach and decided this time to make the trip on our own. Well, as it turns out that same company still takes tours out here because only ten minutes after setting up our chairs and settling in for some quality beach time, a fleet of half a dozen tandem kayaks came around the corner.
There was plenty of beach to go around, and they only stayed about 15 minutes, but it was kind of funny to that we paddled 3.5 miles to a secluded beach only to be joined by a dozen strangers :) After they left we enjoyed some dinner and explored the beach for a bit before paddling back. 
This past weekend we took advantage of the near perfect weather (it's been a tad on the hot & humid side, but it is summer so I guess we shouldn't complain) to hike up Cadillac Mountain. This is the tallest mountain on the island with fantastic 360-degree views of the surrounding area. It's also the most popular mountain for tourists due to the auto road that snakes its way to the top. Consequently, it is nearly always a mob scene up there with hordes of people snapping photos, tour buses galore, and even a snack shop.
We've driven up several times in the past, and once years ago we hiked up on the fairly popular North Ridge trail, but this time we wanted a longer excursion, so we took the South Ridge Trail that starts down near the Blackwoods Campground. The trail is 3.5 miles each way, with terrain that varies from a gentle uphill to sections of steep exposed ridge line. Overall, we found it it only mildly difficult and like many of the trails around here much of it was open and exposed with fantastic views.
At the top we admired the view while eating lunch. As expected it was very crowded.
After lunch we decided to extend our hike by taking an alternate route back down the mountain. It started with a rapid descent down the Gorge Path. This path was extremely steep with large boulders that required a bit of butt scooting. Most of the people we passed going up were really struggling. This is NOT the best way to get up the mountain. The best part were the prolific amount of wild blueberries on the side of the trail. We stopped numerous times to snack.
At the bottom of the gorge we turned south and followed the A. Murray Hill Young Path for a few miles. After picking our way through a jumbled path of boulders it leveled out and followed alongside a pleasant stream.
At the junction of the Cannon Trail we turned right and headed back up towards the South Ridge Trail. The decision to take this route was last minute and based solely on the Acadia NP map — which gives no indication of the terrain — so while we knew this part would go uphill, we had no idea how steep it would be.
At this point we were both extremely hot and tired and the relentless uphill climb nearly did us in. We stopped at every shady spot and then took an extended rest at the top of one particularly steep section where we refueled with some dried fruit. At least the view was nice.
Eventually we made it back up to the South Ridge Trail and began the gentle 3 mile descent to the bottom. Altogether the hike clocked in at 8 miles, which means our side trip only added an extra mile, but with that difficult downhill section and killer uphill it felt like at least an extra five. Pretty sure if we did that again we would just go back up the way we came :)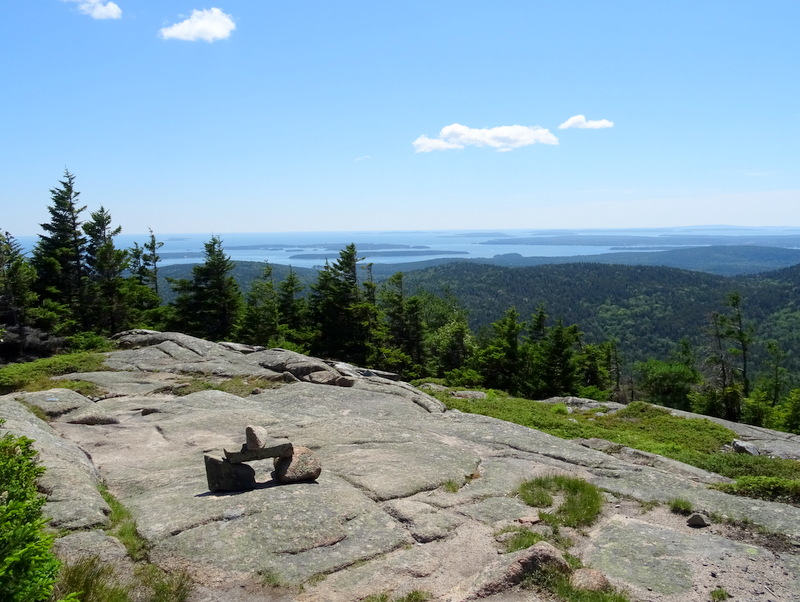 By the way, all the links I've included with the hike go to a fantastic site called Joe's Guide to Acadia. We've used his guides before in other national parks out west and I was happy to find that he has one for Acadia as well. Be sure to check it out if you want detailed trail descriptions and great ideas for combining trails.
The other weekend day had us touring two gorgeous gardens in Northeast Harbor. First up were the Asticou Azalea Gardens. These pristine, Japanese inspired gardens were designed and built back in 1956. Many of the original plants came from a private estate in Bar Harbor and are still on display today.
It's too late in the year for the extensive selection of azaleas to be blooming, but we did spot several varieties of rhododendrons, a few dusky rose smoke bush in bloom, and a cluster of bright orange Canada lilies. The flowers are only a small part of this garden. Meandering paths lead you through a succession of garden rooms with raked sand paths, perfectly sculpted shrubbery, and stone accents. The overall effect is peaceful and inspiring. 
Next up was the Thuya Gardens. These English style gardens are managed by the same Land & Garden Preserve, but are located a few miles away in an open meadow at the top of hill. We could have driven there and either parked in the lot next to the gardens, or at the bottom of the hill and walked up the 1/4 mile terrace trail. But when we learned about a wooded trail that connects the gardens we decided to take it — despite the fact that we were both wearing flip flops and already sweating in the steamy weather. Not sure it was worth it as the "trail" basically went up a steep hill through a residential area and then down a short path in the woods.
Really it doesn't matter how you get there though, because the gardens were incredible! Seriously, as a life long flower lover I was blown away. Not only were the flowers stunning and the layout eye-pleasing, but everything was impeccably maintained without a weed or gone-by flower to be seen anywhere. If I wasn't melting in the mid-day heat I might have stayed there all day.
We took the terrace trail back down to the main road and stopped to enjoy a view of the harbor.
After making our way back to the truck we headed over to the tiny one street downtown in Northeast Harbor for some lunch. A tasty meal on the patio at Colonel's Restaurant and Bakery hit the spot and then we wandered down to the harbor for a close up view. There was a short discussion about kayaking, but neither of us were feeling up to it so we decided to save that adventure for another day. 
With a week and half left in our stay I'm sure I'll have plenty more adventures to share next time!