September 13-23
This is the third and final post about our trip to Portugal in September 2022. Read about the first part of the journey:
Portugal Part 1: Lisbon & Sintra
Portugal Part 2: Obidos, Nazaré, and Coimbra
Porto
We arrived in Porto in the early evening after a roughly two-hour drive from Nazaré. With only two nights in this large and vibrant city, we chose to stay in the heart of the historic district. The downside to this location was no parking on site so we had to find a place to put the rental car. There were several paid parking lots nearby but the prices were high and it would have meant driving into and around the city (it was around 5 pm and the traffic was heavy). Instead, we found a free park-and-ride type lot near the Metro station on the other side of the river from Porto. With a little hesitation about leaving the rental car in this free lot, we gathered all our luggage, boarded the metro, and after a short ride emerged from the station to a bustling city only a few blocks from our lodging.
I came across B28 Apartments on a list of the best small places to stay in the center of Porto. It was a great choice and if we returned I would absolutely stay there again. Everything from the location to the comfy bed, tall ceilings, minimalist decor, scrumptious breakfast ingredients, and even communication with the owner were spot on. The photos I took of our apartment really don't accurately portray how nice it was.
With so little time in Porto, we planned virtually nothing and instead chose to spend our time simply walking and exploring. I was also still not feeling great and this lack of itinerary allowed for lots of downtime and napping. With our schedule now firmly adjusted to late nights and late mornings, we spent most of our time in Portugal walking around in the evening. Not only was it cooler (daytime temps were 90-ish with high humidity) and far less crowded, but it was also very beautiful at night.
The one scheduled activity that we did do while in Porto was a walking tour. It was a last-minute idea that I booked in the car while on the way to Porto. I found a free English tour using civitatis.com for the next day that would meet at 11 am. The deal is that the tour is free but a tip of 10-20 euros per person is customary. It turned out to be a great way to spend two and a half hours. Our group of English-speaking tourists (we were the only Americans) was led around by a guy from Ireland who moved to Porto after coming for a study-abroad program and falling in love with the city. It was hot that day (it was hot every day – I can't imagine visiting in the summer months) so the walking was kept to a minimum and we stopped to chat in a lot of shady spots.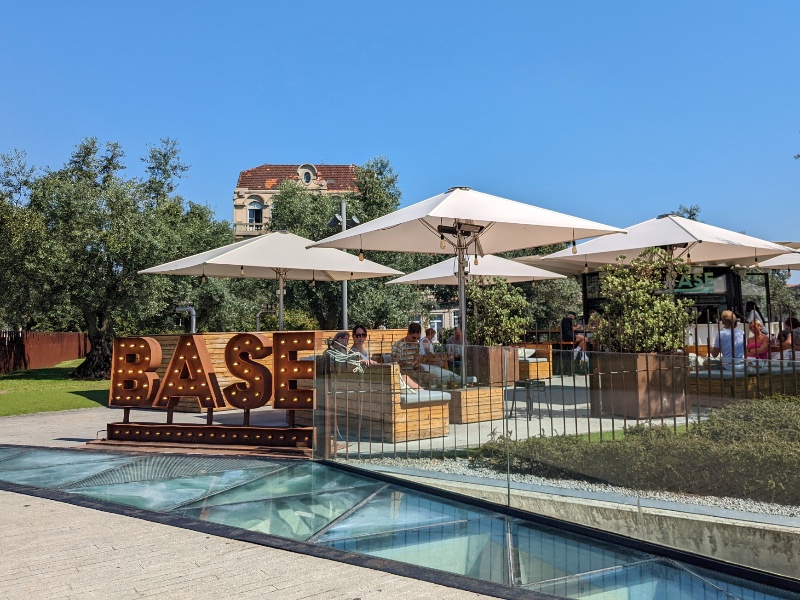 Turns out that a walking tour is a great thing to do on the first day in a new city. Even though we didn't walk far, we were given a fairly comprehensive oral overview of the city. Everything from the popular local dishes to the Carnation Revolution in the '70s that ushered in a democratic regime was discussed. At the end of the tour, we were all sent a helpful PDF with numerous recommendations.
There hasn't been much mention of the local cuisine during this trip because, for the most part, the popular dishes in Portugal are not our favorite foods. Because of this, I pretty much stuck to a diet of cheese or sometimes ham & cheese toasties with a salad for most meals. The salads in Portugal are no joke! Every time I ordered one it was large enough to share and included extra goodies like olives, corn, and sometimes cheese. Tim is a bit more of an adventurous eater than me, so he tried some of the local specialties, including a meat monstrosity called a Francesinha. This heart-attack-in-waiting dish is made of thick bread wrapped around cured ham, a Portuguese sausage called linguica, and steak or roast beef. The sandwich is then covered in melted cheese and tomato beer sauce. Tim said it was good. I'll have to take his word for it.
One of the places mentioned during the tour as a great place to see the sunset was the Jardins do Palácio de Cristal (Crystal Palace Gardens). It was not too far of a walk from our apartment so after a late lunch and subsequent nap, we headed over to take in some views.
I hesitate to pick favorites, but overall I think Porto was my favorite of all the places we visited in Portugal. It may have been because we stayed in such a central location, but I loved the vibrant energy and amazing architecture. If we ever return to Portugal, spending at least a week in Porto would be a must.
Tomar
After a far too short visit, we left Porto and drove south to our last destination before we had to make our way back to Lisbon for the flight home. At nearly four hours, this was by far our longest drive so we decided to split it up with a stop to see a castle in Tomar.
Tomar is a small town in a country setting that oozes charm mixed with an old history. The main attraction is the Tomar Castle and Convent of Christ which sit high on a hill overlooking the town. The convent was closed for renovations during our visit which was fine as we didn't have a lot of time to spend here.
The 12th-century castle is no longer in use, but the castle walls are still standing and open for exploring. Unlike all the other castle walls we walked around in Portugal, these actually had metal railings to prevent falls. No information on what we were walking on or seeing though, as seems to be the norm. Maybe if you tour the convent they provide more info, but on this day we were content to simply explore on our own while trying to imagine what it was like here when the castle was occupied so long ago.
Évora
Our last stop in Portugal took us to the southern town of Évora. When researching for this trip, Tim came across Évora and the Bone Chapel and immediately put it on the list. While the bone chapel is a popular must-visit, Évora is most famous for the Templo Romano de Évora ( Roman Temple of Évora). Built in the early 1st century AD (that is old!) and then modified in later centuries, it is considered one of the best preserved Roman temples in the whole Iberian Peninsula.
We found another great place to stay for our two nights in Évora. The Casa Morgado Esporao is located inside the walls of the city just steps from the famed Roman ruins. The boutique apartments here are housed in a beautifully renovated 15th-century mansion. We stayed in the Pedro Nunes apartment on the first floor with decorated vaulted ceilings. It was secluded, quiet, and only steps from the courtyard garden and pool. I am not sure if it was the layout of the building or there were simply not many other guests at the time, but we didn't see anyone else for most of our stay and it felt like we had this entire dreamy place to ourselves.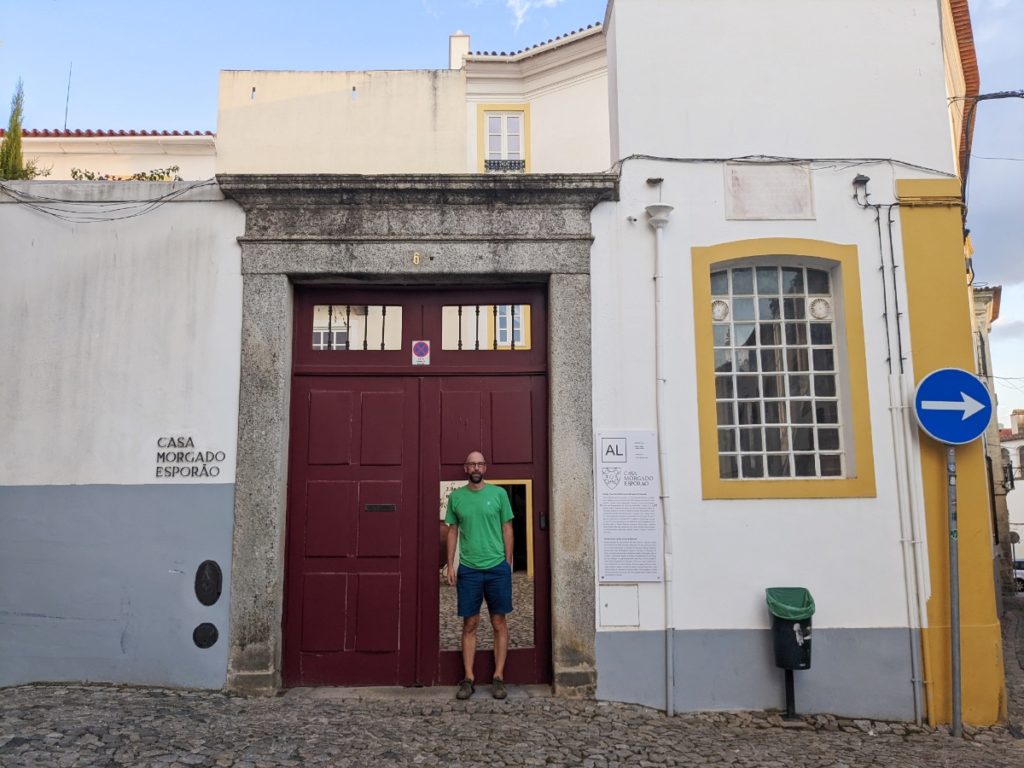 Évora is another walled city with little access for cars inside the walls. We parked and walked in which was for the best because most of the narrow streets were one-way and shared by cars and pedestrians. I think you would want to really know your way around before attempting to drive inside the walls. We once again planned no itinerary for this stop and instead spent our two days wandering around, resting, and filling up on pastries.
Évora is home to the University of Evora which made it feel less like a town strictly for tourists, and more like a place where people actually live. It also meant that Tim was able to find a brewery-type restaurant serving craft beer. It should be no surprise we went there on our first night. The craft beer scene in Portugal is not like it is in the US and after drinking countless lager-style Superbock beers, even I was happy to find a decent brew. (No shade on Superbock as Tim left the country with not one, but two of their t-shirts).
The Capela dos Ossos or Bone Chapel is located in the San Francisco Church in the center of town. We couldn't look inside the church because a mass was going on, but we did tour the chapel and the small upper-story museum that was filled with mostly religious artifacts.
Depending on your point of view, the Bone Chapel is either spiritual and meaningful, or creepy. Or maybe a bit of both. Even though I knew that this space was filled with bones from over 5,000 skeletons, it was hard to comprehend that these were real human skulls and bones and not simply an elaborate art installation. Because there's no denying that the way these bones are arranged in columns and arches makes it obvious that they were meant to be viewed as something more than simply human remains.
On the face of it, the story behind the chapel is simple. The cemeteries in the 16th century were hurting for space, so the monks brought the bones inside and turned them into art. But there's more to it than that. The monks were not only serving the practical issue of overcrowded cemeteries but also giving a visual message to the local residents about the inevitability of death along with the timeless mantra about enjoying life while you still have it. Legend tells us that there was once a plague outside the chapel with the following words:
We ended our trip to Portugal with an early morning drive back to Lisbon followed by seemingly never-ending flights home. The ten days we spent in Portugal were magical and inspiring. We loved so much about the country and look forward to a return visit someday so we can see all the places we missed the first time around.
Portugal Part 1: Lisbon & Sintra
Portugal Part 2: Obidos, Nazaré & Coimbra