September 15 – October 22
After our month with friends in Cambridge, we moved about an hour south to spend the next five weeks with my mom and step-dad at their apple orchard in Monkton, VT.
We haven't always been an apple orchard family. In fact, I don't think my mom & Charlie ever dreamed that they would spend their retirement pruning trees, pressing cider, and shilling apples to tourists and local apple lovers. But as sometimes happens in life, the best plans are those that find us before we can even dream them up.
The orchard business fell into their laps about three years ago while they were searching for land to build a house on in Vermont. When they stumbled upon a piece of property filled with rows of apple trees, it was love at first sight. I still remember when my mom called to say they found the land where they hoped to spend the rest of their lives – and it was an apple orchard. Okay, I thought, that sounds like a cool place to live. And then when she called me a week later to say they also bought the land across the street with an additional 100 apple trees of various varieties so they could sell to the public, I thought, hmm…sounds like a busy retirement plan.
This is only their second year running the orchard, and while on one hand, I think it's a bit more work then they anticipated (apples are more high maintenance then one would think), I also think they love it. Not only the part that involves taking care of the trees all summer and then turning the apples into yummy cider and cider doughnuts, but also the part where they get to interact with the community and welcome people into the cozy space they have created.
During our time at the orchard we helped out in various ways and in the process learned a lot about apples. Tim helped press cider a few times and I manned the apple stand on many occasions while my mom ran errands and made batch after batch of dough for her delicious handmade apple cider doughnuts.
For our month+ long stay, we set ourselves up in the far corner of the orchard between a row of pine trees and a McIntosh tree overflowing with apples.
The house they are building in the orchard is still in progress, but that didn't stop us from having family dinners in there on more than one occasion. Later, as the evenings got cooler we moved our group dinners out of the unheated house and into the apple stand next to the woodstove.
When not immersed in all things apple-related, we got out to explore the neighborhood on a few occasions. Between work, time spent with family, and a somewhat involved Airstream renovation project (blog post coming soon) there wasn't much time to spare. But as the fall season progressed and the foliage turned more and more brilliant, we carved out a few days for hiking in our favorite green mountain state.
Even though when Tim and I lived in VT we were only an hour north, and I grew up only one town away, there are lots of trails down this way that we have not yet hiked. It was fun to explore a different part of the state, and our more southerly location even allowed us to hit the milestone of hiking up all five of Vermont's 4000+ foot peaks in one summer!
Two of those peaks are Mt. Abe and Mt. Ellen which we managed to tackle in a single hike one Sunday in early October. The hike started on the Long Trail in the Lincoln Gap. From there it was a short but steep trek up to the top of Mt. Abe.
From there, we followed the Long Trail north along the spine of the Green Mountains over to Lincoln Peak and then on to Mt. Ellen. The trail dipped and rose with the landscape offering up glimpses of the soft Vermont mountains to the east and the larger, more distant, Adirondack Mountains across Lake Champlain to the west.
Finally, on our last weekend in VT, we climbed Camel's Hump which holds the title as Vermont's second-highest mountain. It's a fairly prominent looking peak with a distinct "hump" at the top that is visible from all angles. Fun fact – you can also find an image of Camel's Hump on the Vermont state quarter.
We have both hiked up Camel's Hump a number of times in the past. I even have memories of hiking it on a field trip or two during Elementary school. This time, we chose a new-to-us route to the top. We started from the west side (you can also hike up the east side) but instead of taking the popular Burrows trail up and then back down the mountain, we hiked up the Forest City trail, hooked up with Long Trail which took us to the top, and then went back down the Burrows trail.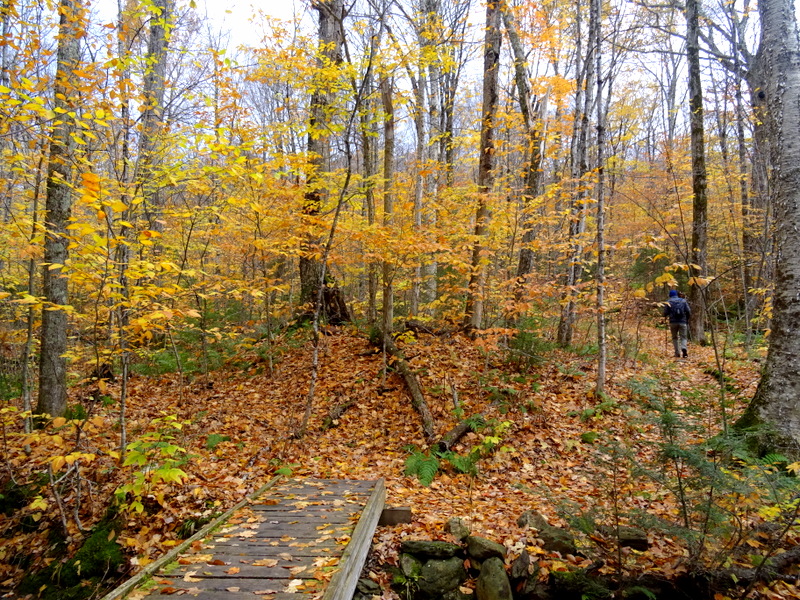 We both agreed that this loop is now our favorite way to hike to the hump. Not only is it far less busy than the Burrows trail, but it also offers up some great views and fun rock scrambling opportunities.
It had snowed a couple of inches in the mountains a few nights prior so we knew to expect a bit of snow up there. We also came prepared for the cold with lots of extra layers becuase even in the summer Camel's Hump can be windy and cold at the top. But we did not expect full-on winter!
Hiking down the exposed part of the mountain was slippery and slow going. We were thankful for our hiking poles and also thankful that we were smarter than the half dozen or so 20-somethings we passed wearing combinations of shorts, t-shirts, sneakers, and in one case, sandals paired with (soaking wet) wool socks.
Seeing the snow up in the mountains confirmed that it was time for us to put our wheels in motion and start to roll south. The foliage is about past peak color, the cold nights have set in, and we're both itching to get somewhere with more sun and less chilly rain.
So with that, we said our final goodbyes, hitched up the house and rolled on out. It's never easy to say goodbye, especially when leaving family and good friends, but we feel grateful for having spent so much time in Vermont this summer and fall. As always…until next time VT!