April 19-23
The first thing you need to know about Big Bend National Park is that it is not on the way to anywhere. Located about as far south in western Texas as you can get before leaving the country, Big Bend is a destination, not a drive by.
Over the years, we've traveled through Texas on I-10 on several occasions and never found the time to make the necessary hours long detour to visit the park. This time around, even though Big Bend it most certainly NOT on the way from New Mexico to Connecticut, we decided to make it a priority. But first, we had to get there.
From Oliver Lee SP, we drove south into Texas, skirting around the eastern edge of El Paso and making a successful stop at Sprouts for groceries, jelly beans, and chocolate (stop judging – it was a two days before Easter). All was going smooth until a few miles after the border checkpoint near Sierra Blanca. We were busy speculating as to why the motorhome in front of us got pulled over for further inspection when we heard a distinctive popping noise. Tim immediately pulled over to the shoulder. We had a flat tire on the Airstream.
In nearly 7 years of full-time travel, this was only the second time we've had a tire blow out. Both times it happened while driving on I-10. Coincidence or sign that we should be avoiding this road? Who knows. Fortunately for us, Tim performed a super speedy side-of-the-highway tire change that even a Nascar pit crew would be proud of.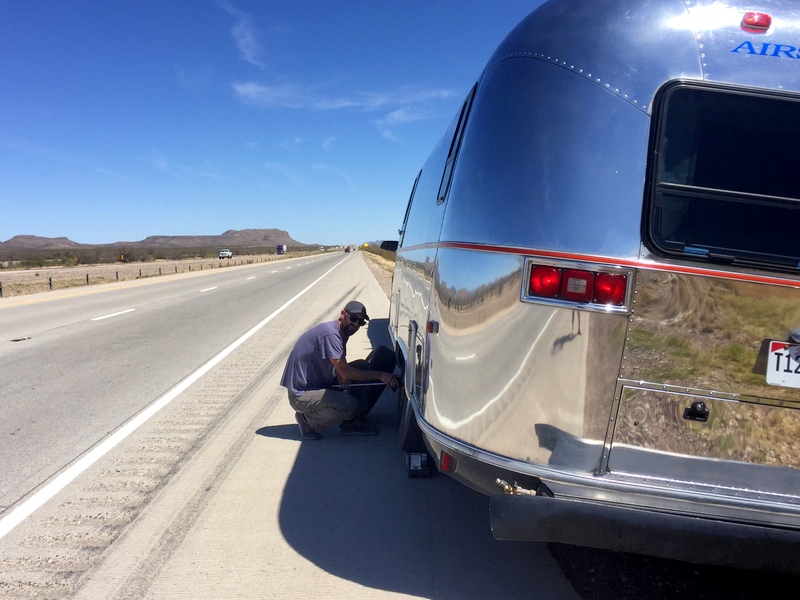 Back on the road, we counted our blessings and felt thankful that the situation was not worse. No damage to Airstream and no need to wait for roadside assistance means that we're basically like the rock stars of the RV world, right? That is until we hear the same popping noise. What!!!??? Another flat. This time it was the spare tire. By this point, we were off I-10 and driving south on 90 which is a fairly quiet two-lane road.
Unfortunately, we were out of spare tires, 20 miles from the nearest town and it was after 5 pm on the Friday before Easter. By some miracle, Tim called a random tire place in Van Horn, and actually got someone on the phone who agreed to deliver us a tire. Hooray! (side note – we do have a Good Sam membership which provides roadside assistance, but we wanted a tire, not a tow, and we didn't feel like waiting hours so we choose not to use it.)
As we were waiting for the tire guys, Tim took the bad tire off and started poking around. While changing the other tire on the side of I-10 with semi trucks whizzing by he had not done much more than take the old one off and put the spare on. Now that we were on a less busy road with time to spare he realized that the problem was not the tires, it was the wheel bearings. And guess what? We actually had a spare wheel bearing with us! I guess all those boxes of tools and stuff in the back of the truck do come in handy on occasion. :) By the time the tire guys showed up, he had the bearing changed and wheel ready for a new spare.
Back on the road again, we drove another 40 minutes to the town of Marfa where our friends Kerensa & Brandon had secured us a spot at the Tumble In RV park. Even though their website showed full all weekend, Kerensa inquired about spots for us earlier in the day and manager said there was a cancellation. He coned off the spot and said it was ours. Except as tends to happen, someone else arrived, moved the cones and took the spot while he was out. So he said we could park along the back edge of the park for free. Works for us!
Our stay in Marfa was short. We got there around 7, went out for a slice of pizza, had drinks in town with K & B, hung out at the park in their RV, and then left the next morning. Maybe next time we'll stay longer and explore more – or not. My super quick drive-by impression of the town is that it's trying too hard to be LA cool.
Okay…onto Big Bend. The drive from Marfa to Big Bend is scenic to say the least. We stopped at a roadside pull-out along the way to eat lunch and admire the views.
We decided to stay on the west side of the park simply because it was more convenient for our travel plans. Also, all the cool kids say Terlingua is the place to be and who are we to argue with that?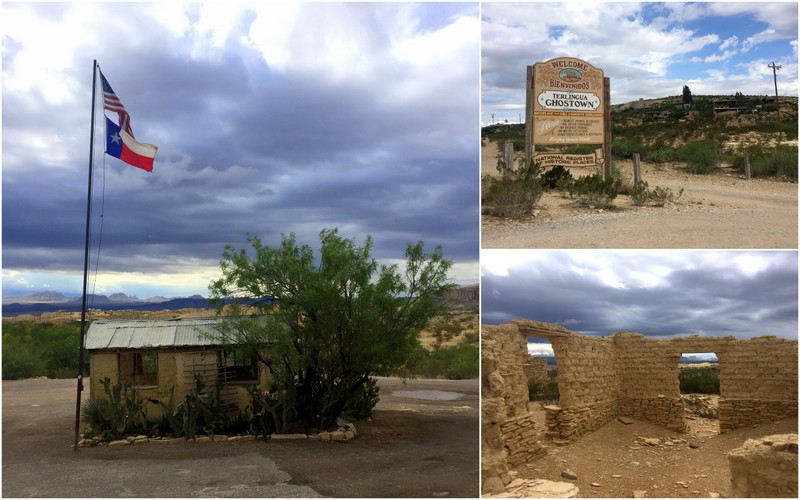 Our timing for this trip was not the greatest with Easter, school vacation, rolling spring break, and all that other stuff filling up the campgrounds. But when I called the Study Butte RV Park and told the owner that we only needed a place to park – no hook-ups required – she quickly said they would find us a spot. Study Butte is only a few miles from the park entrance making it a popular stop for tourists. Like everything in these parts, it is rough around the edges. You will not find paved parking pads or manicured sites here. But the owners were great, and the location near the national park entrance and across the street from a surprisingly well-stocked grocery store was perfect for our needs.
By the way, Big Bend is a great place to visit while on vacation but somewhat challenging for those who work while traveling. The cell service down there is fairly weak and the campground wifi options typically inconsistent (we never rely on campground wifi for work). I am not saying you can't do it, but for us, it was much easier to go there expecting that we would have limited connectivity during our stay.
After settling into our makeshift spot all cozied up next to the public bathrooms (no complaints for $20/night) we set off the explore the park. Our first stop was the Panther Junction visitor center where we watched a short film about the park and got some info for our upcoming river adventure. With not much time left in the day, we settled on a short, late afternoon hike on the Grapevine Hills trail.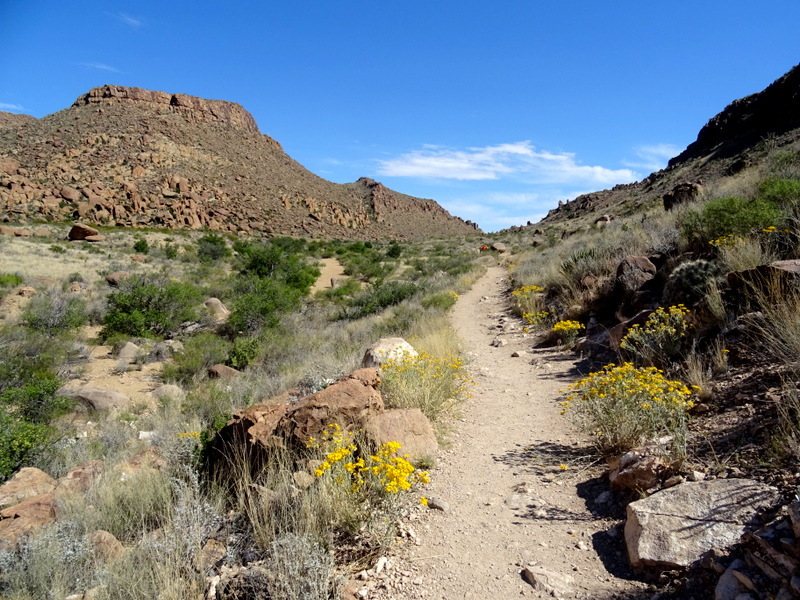 The Desert
It was hot during our time in Big Bend. I am talking the high 90s and sunny kind of hot. But it really is true what they say about the dry heat. I'll take 98 degrees and no humidity any day over 80 degrees and sticky. Yes, the sun was strong but with lots of sunscreen, hats, and long sleeves, we happily hiked through the blooming desert and up to a jumble of boulders overlooking the desert below.
Big Bend is a unique park because within in its boundaries you can explore a desert, a mountain range, and a river. The desert here is called the Chihuahuan desert and it is very different than what you find in much of Arizona which is dominated by the Sonaran desert. Here, the elevation is higher and the plant life a bit more sparse. Even though the desert makes up the majority of the park, we explored it the least. Not becuase we don't love the desert, but because we already had plans to spend three of our four days in the mountains and on the river.
The Mountains
The Chisos Mountains Range lies entirely within Big Bend National Park. In fact, it's the only mountain range that can claim to reside entirely inside a national park. The Chisos range covers about 40 square miles and contains four peaks topping out above 7,000 feet.
We had originally planned to do an overnight backpacking trip in the Chisos. There's a really cool sounding 16-mile loop with multiple backcountry campsites and amazing views that we wanted to tackle. But that plan flew out the window when we learned about the options for overnight kayaking in the Rio Grand. So while we saved our overnight trip for the river, we instead took a day hike in the mountains.
Clocking in somewhere around 11 miles, the hike from Chisos Basin to the South Rim was not much shorter than our overnight route, but it was easily hiked in one day. As we climbed higher in the mountains, the high desert terrain transitioned into an alpine environment thick with trees that provided welcome shade.
Even though it was another hot day, we estimated that by the time we had reached the south rim, which rises 2,00 feet from the desert floor below, it was at least 10-degrees cooler up there. Aside from finding cooler temps, we were thrilled by the expansive views at the top of the ridge.
The River
The desert in Big Bend was lovely and the mountains scenic, but it was the river that really made us fall in love with this park. For 118 twisting miles, through canyons and wide plains, the Rio Grande defines the park's southern border. It is within this stretch that the Rio Grande's southeasterly flow changes abruptly to the northeast and forms the "big bend" of the Rio Grande.
While researching backpacking options in the park, we came across stories of people paddling the Rio Grande. Most experienced the river on multi-day trips through the high walled canyons with nights spent star gazing on the sandy river bank. It sounded fantastic but also somewhat of a logistical quandary.
With only one vehicle at our disposal, we would need to hire someone to pick us up at the end of the journey and ferry us (along with our kayaks and gear) back to where we started. That meant not only shelling out a couple hundred bucks but also following a schedule and finishing the trip at an appointed time. Neither sounded appealing, so when Tim came across some online mentions of something called the Santa Elena Canyon Boomerang trip, we quickly abandoned the idea of slugging our gear up a mountain and instead started to plan an overnight river trip.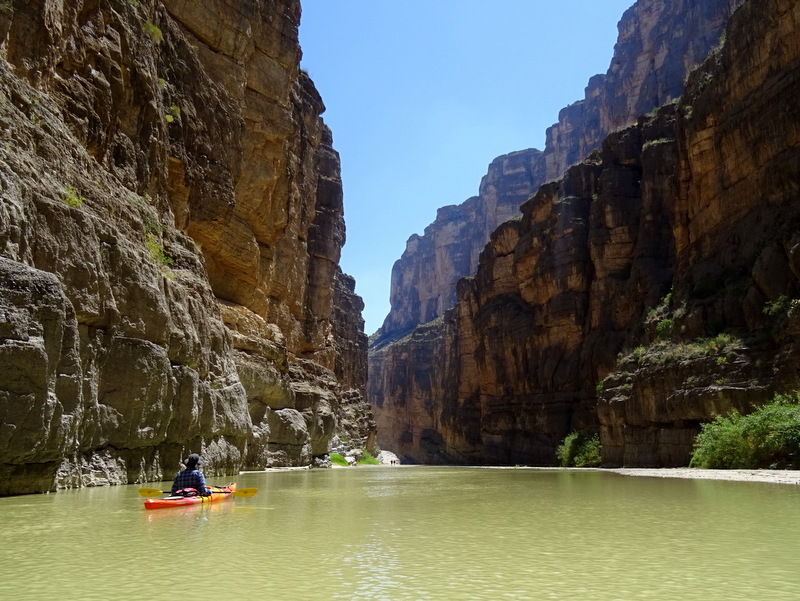 The suggested boomerang trip had us paddling upriver for a few miles, spending the night in the canyon, and then floating back downstream the next day. Our research revealed that 3-5 miles into the canyon there were numerous areas on the river bank suitable for camping. All we needed was to obtain a wilderness permit within 24-hours of our trip and to make sure that we had everything on the required packing list from the NPS. Some of the stuff, like an extra paddle, we already had. While other things (extra life jacket, fire pan, and portable toilet supplies) we picked up in town. It's worth noting that we didn't use any of these items but are now proud owners of a collection of portable toilet bags.
The Rip Grande is considered a gentle, easy river for paddling. By the time it reaches Texas, this once mighty river has been siphoned off for irrigation, flood control, power generation, and various human needs so often that the water which flows through the canyons in Big Bend is typically shallow and slow. At this time of the year as the dry, hot summer weather sets in we were far more worried about encountering too low of a water level than we were about any sort of rapids. Of course, water levels in these narrow canyons can change quickly so we made sure to plan our trip when there was no chance of storms.
Within five minutes of starting our river journey, it became obvious that we would be spending a LOT of time walking in the river while dragging our boats. We started at the Santa Elena boat ramp about a mile from the southern entrance to the canyon. Some spots were deep enough to paddle, but many were so shallow that our boats either bottomed out, or we simply didn't have enough water under us to move forward with our paddles. We quickly became adept at jumping out of the boats and navigating our way on foot. The two things that helped us during this process were good shoes with grippy soles and holes for water draining, and the lengths of rope Tim attached to the front of our boats.
This walking/paddling upriver business was slow going but with the whole day stretched out ahead of us, a thin layer of clouds protecting us from the sun, and a gentle breeze coming off the water, we were in no hurry.
Eventually, we reached the entrance to the canyon. The walls of the Santa Elena Canyon rise up to 1,500 feet high in some spots creating a stunning river corridor rich with plant and animal life. We continued our paddle for a bit, get out and walk for a bit, pattern as the canyon narrowed and widened always revealing something new and exciting around every corner.
At some point, the decision was made to stop for lunch. Despite knowing that it was technically not allowed, we pulled up on the Mexican side of the river simply because it was in the shade. From our vantage point on the river bank, we spotted a mother and baby mountain goat playing high up in the cliffs.
We also waved to several groups of other boaters as they floated past. Most were groups of 3-5 people with a guide from one of the local river tour companies ferrying their gear. The most popular river trip starts upstream in Lajitas and continues downstream through the canyon, ending at the boat launch area where we started. This trip takes several days and requires either a guide or a shuttle service. I am sure it's a fun trip, but with limited time, no desire to pay for a shuttle, and no need to rent any gear, I think the boomerang trip was the best choice for us.
As the late afternoon sun dipped into the canyon we started looking in earnest for a spot to set up camp for the night. The two main rules for canyon camping in Big Bend are to stay only on the U.S. side, and to leave no trace. This means packing out everything you brought in including any coals from a fire. By the way, the canyon is the only place where you are allowed to have a fire in national park. A fire pan is required whether you plan to have one or not, and you can burn charcoal or driftwood. Since we had gone through the trouble of finding a suitable pan, we thought a fire might be fun, but as soon as we set up our camp the wind picked up significantly, erasing any thoughts of a cozy fire before bed.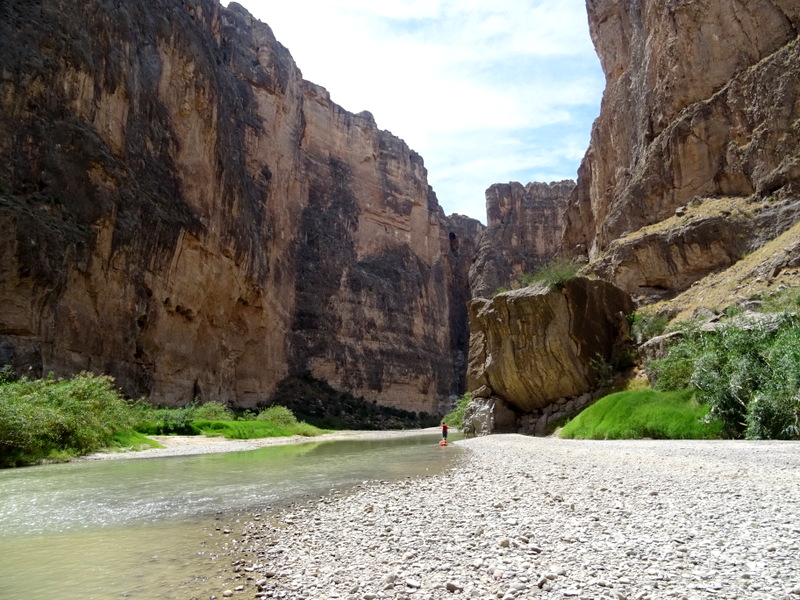 We ended up on a long stretch of the river bank where it seemed the most logical spot to pitch our tent was in a nice sandy area. We set everything up, got out our chairs, and settled in for a relaxing dinner and some cold beverages. Kayak camping means we were able to bring all the necessities – like a cooler with ice!
As the evening crept in and the wind picked up, it became obvious that the sandy spot where we pitched the tent was not going to work. We had the rain fly off and when I peaked inside our sleeping bags were covered with a fine layer of sand. Eeek! Fortunately, an easy solution presented itself in the form of a grassy spot on the corner of the bank away from the blowing sand. I grabbed the sleeping bags and pads while Tim picked up the whole tent and moved it up to higher ground.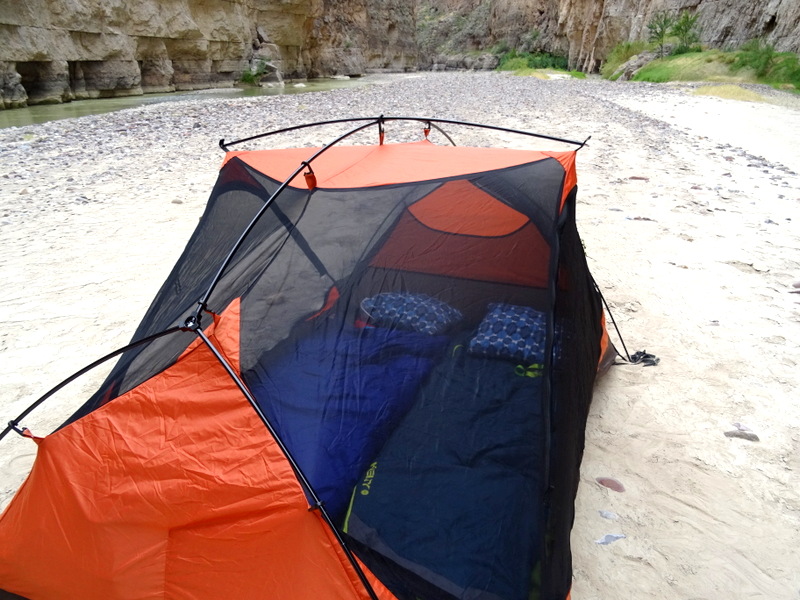 We had a peaceful night in the canyon. It was warm enough to leave to the rainfly off and we spent a quite a while inside the tent laying on our backs gazing at the stars overhead.
In no rush to get up and go in the morning, we lazed around for a few hours as the sun seeped into the canyon and began to heat up our little slice of paradise.
The float downstream was quick, easy, and so much fun! There were only one or two spots where we had to get out due to shallow water.
We passed a lot more people than the day before paddling both up and downstream. It was a Tuesday so I am not sure why it was so much busier. I was also surprised to see so many groups with guides out on overnight trips because there was a big storm forecasted for the night. Later that evening when it poured down heavy rain and the sky lit up with massive bolts of lightning, I kept thinking of all those people sleeping in the canyon.
Our trip ended back at the boat launch sometime in the mid-afternoon. We were both soaking wet, crusty with river water, and grinning from ear to ear. What an amazing experience this was. Big Bend National Park was well worth the detour!